Why are observations so important?
Taos Avalanche Center (TAC) is constantly working to improve the avalanche forecast to better serve the backcountry community of Northern New Mexico. A big way to help improve the backcountry forecast is through Public Observations that come from YOU! Observations play a critical role in the avalanche forecasting process, by giving us a better picture of what's going on in our backcountry.
With only 2 avalanche forecasters, we cannot be everywhere and critical observations may be missed.  TAC issues avalanche forecasts for the mountains outside of Taos NM. But, we also realize that there are other areas that are not included in the forecast zone. We haven't forgotten about you, it's that we don't have enough funding or weather stations in those zones to provide a reliable forecast.  Our hope is that those users in zones like Santa Fe will find a place on the Observations Page to pass along information to fellow backcountry recreationists.
What information is valuable?
Any information is good information! And often a picture can be worth a thousand words, but there are some useful things that will help relay information in a more effective way.
Date and Location
Any recent avalanche observations (Photos are great!)
Weather Observations (Wind, Blowing Snow, Temperatures, Cloud Cover)
Snowpack Observations (Doesn't need to be overly complex or a pit profile/ could be that you found weak layers)
Any Bulls-Eye Clues like shooting cracks or loud audible collapses
Observations are not a public comment forum.  They are meant to relay what you observed in a clear concise manner and please be respectful.
How to Submit an Observation
The new Submit an Observation form should be pretty easy to use through a series of drop-down menus that help formulate your thoughts and observations. Observations can be used anonymously as well as shared publicly or just with TAC Staff.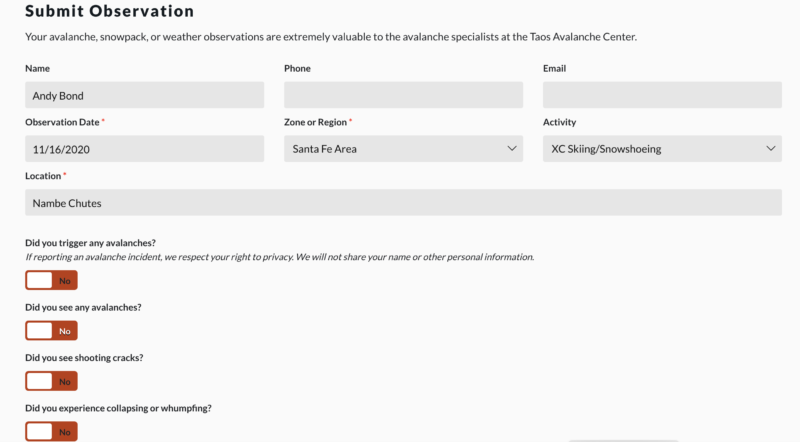 You can upload valuable photos that help paint the picture of what's going on!
Field Observations are a great way to contribute to the backcountry community here in Northern New Mexico.  We thank you in advance for you Observations and if you have any questions feel free to reach out to TAC at andy@taosavalanchecenter.org.