Observation Date:
January 23, 2023
Submitted:
January 24, 2023
Zone or Region:
Taos Area
Activity:
Skiing/Snowboarding
Location:
Fairview Mountain, Lake Fork moraine
Did you observe any avalanches?
Yes
Avalanche Type:
Hard Slab
Size:
Size 2: Could bury, injure, or kill a person
Elevation:
Aspect:
E
Comments:
Fairview Mountain east slopes known as the Pyramid - large recent release appeared to have occurred possibly Friday or Friday night, maybe earlier last week, based on debris density and amount of new snow drifting onto and across debris and visible beneath crowns visible on the middle bench and below the lower cliff band. Initial release appeared to have occurred in the chutes above, low visibility prevented accurate sighting. Debris deposits in the gully at the bottom were up to 2 meters deep.
Photo: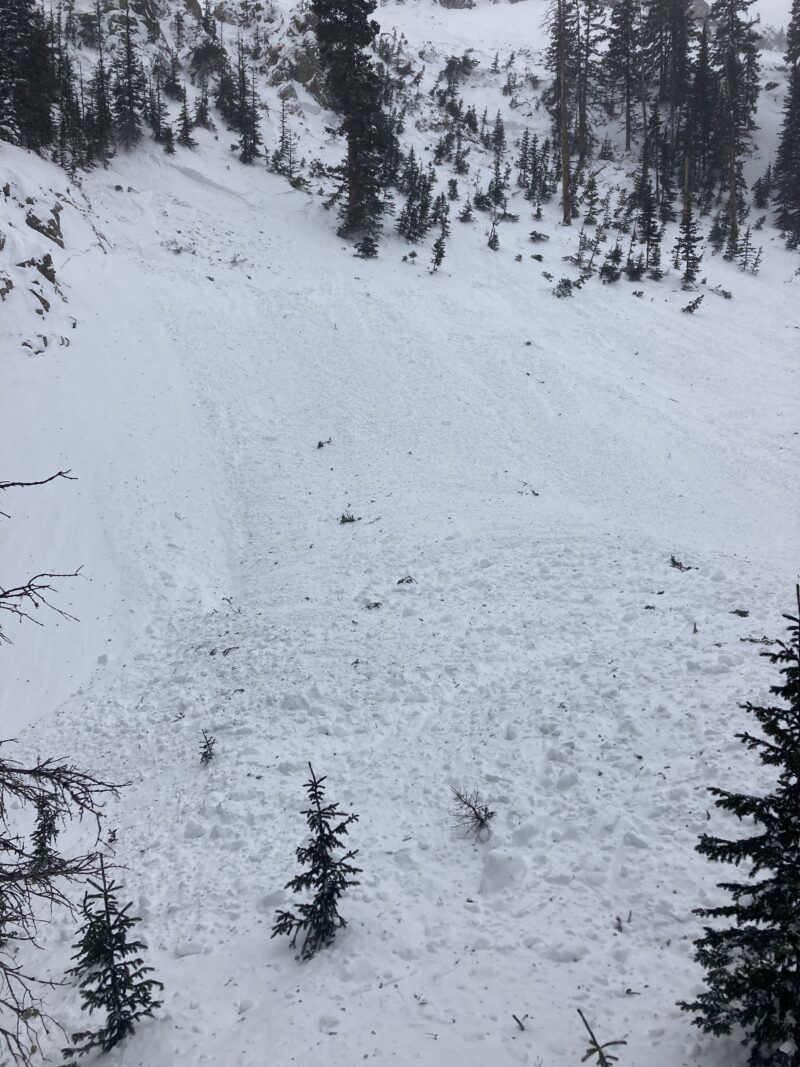 Did you see shooting cracks?
No
Did you experience collapsing or whumpfing?
Yes, Isolated

Crossing the open moraine below Lake Fork, north to south continuing across the lower runout below the Ice Spider couloir and into the lower-angled forest to the south, moderate winds from the east were consistently moving snow, 3-4cm during the day. Wind chill temps were cold, likely single digits F. Snow surface was a mix of dense wind-affected snow on open slopes, and cold powder in sheltered forested terrain. 1-.5m depths, some sections of creeks were exposed. Coverage is adequate and riding conditions were decent.