Close
Basic Information
Observation Date:
March 18, 2022
Submitted:
March 18, 2022
Observer:
TAC - Andy
Zone or Region:
Taos Area
Location:
High Traverse from Lake Fork to Wildy Bowl
Recent Avalanches?
Yes
Cracking?
None Experienced
Collapsing?
None Experienced

Small loose snow avalanches running in steep terrain on the crust that formed prior to this last storm. Expect to see more of these tomorrow with warmer temperatures, and less cloud cover
Stability Rating:
Good
Confidence in Rating:
Moderate
Stability Trend:
Steady

Not much is changing with the persistent slab problem that is deeply buried 100 to 150 cm below the surface. These layers rest below dense slabs above and are showing signs of strengthening and healing but are not there yet. Time heals all wounds but if you were to trigger a persistent slab avalanche the consequences would be very high.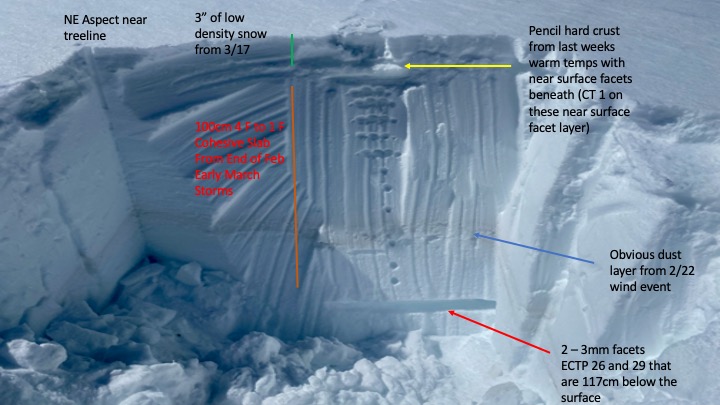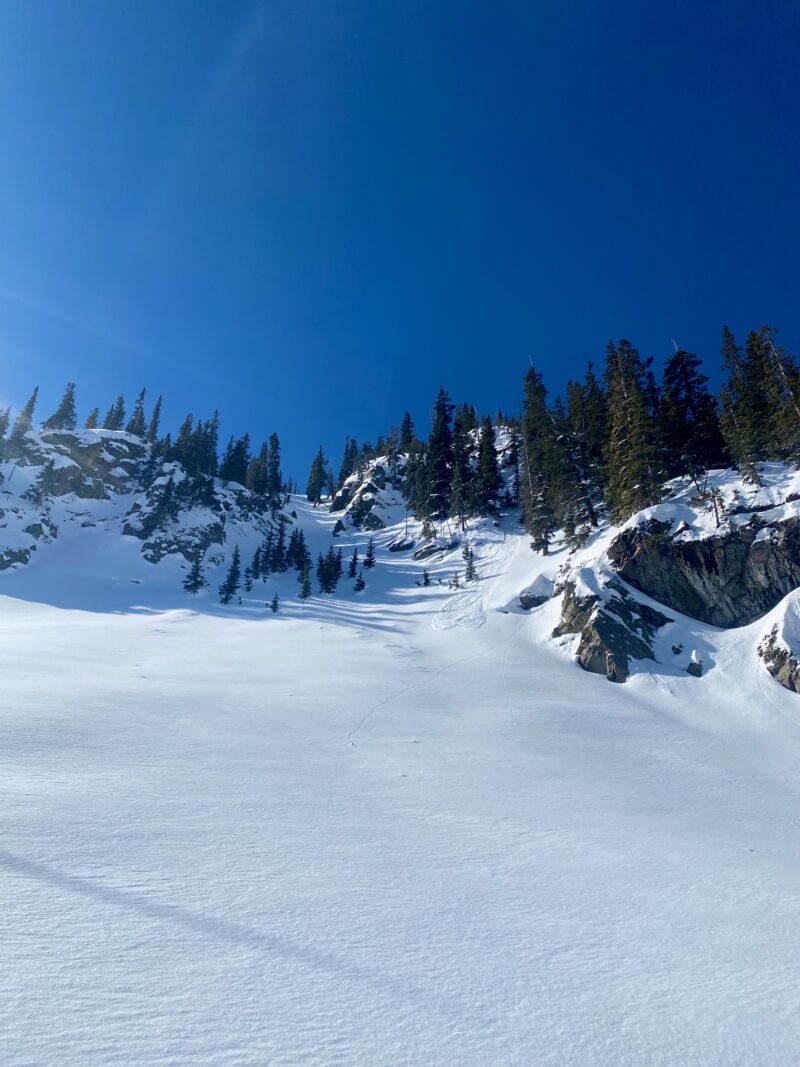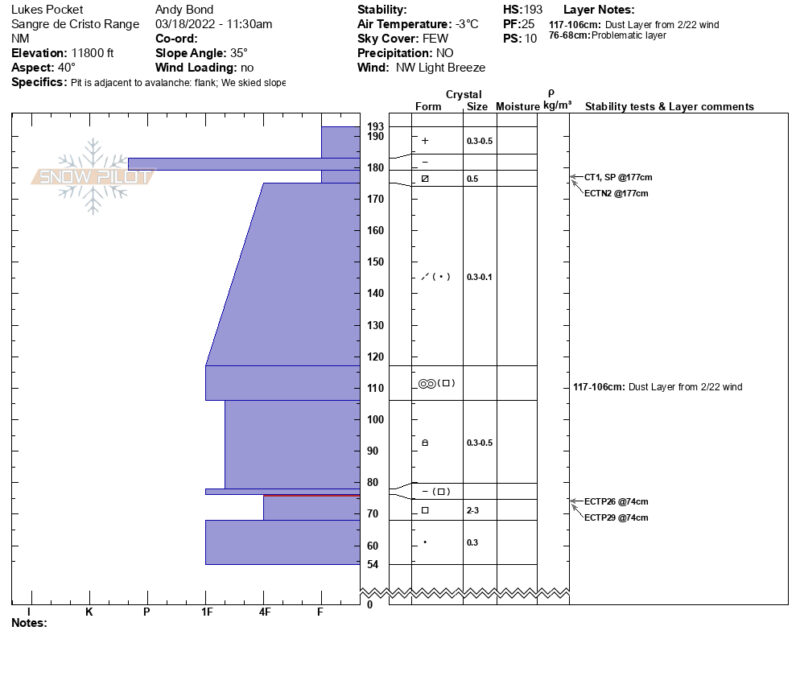 Advanced Information
Cloud Cover:
Mostly Sunny
Temperature:
15 - 36
Wind:
Light , NW
Pleasant morning with more sun than expected with only a few clouds this morning. 3 to 4 inches of low-density snow is available for transport but winds were light and no snow was moving.
There is 3 to 4 inches of low-density snow from yesterday's storm. Was not finding any reactive wind slabs but did not make to ridgelines, especially on West aspects where I'd expect to find them from the E/NE wind. There is a crust from warm temperatures and our intense sun on solar (W,S,E) aspects and lower elevations that is was 3 to 10 cm thick. Below the crust is near-surface facets that are forming and was producing very easy results in compression tests but is not a concern right now as there is no cohesive slab on top. With the potential of a significant storm Sunday evening through Monday this layer may become a bigger problem down the road.

Dug several pits across different northerly and east aspects across multiple elevation bands and all looked relatively similar. Faceted weak layers continue to linger 100 - 150cm down from the surface beneath dense slabs. The weak layers are beneath an obvious dust layer that formed during the 2/22 wind event. You can use this as a barometer to see if you've dug down deep enough. These weak layers were producing moderate to hard results in extended column tests but have been showing signs of healing and strengthening. I don't feel were there quite yet


Problem
Location
Distribution
Sensitivity
Size
Persistent Slab

Isolated

Specific

Widespread

Unreactive

Stubborn

Reactive

Touchy

D1

D1.5

D2

D2.5

D3

D3.5

D4

D4.5

D5
Dust on crust on non-northerly aspects. Very pleasant boot-top powder skiing on northerly slopes
Close