Close
Basic Information
Observation Date:
February 24, 2022
Submitted:
February 24, 2022
Observer:
TAC - Andy
Zone or Region:
Taos Area
Location:
Wind Slab and Persistent Slab Avalanches
Recent Avalanches?
Yes
Cracking?
Widespread
Collapsing?
Isolated

Widespread cracking near and above treeline once I got into slightly stiffer wind drifted slabs. I was experiencing collapsing mainly below treeline on facets/facet crust layers that formed during the high-pressure period prior to this storm.
Stability Rating:
Very Poor
Confidence in Rating:
High
Stability Trend:
Steady

Conditions are touchy out there as strong swirling winds drift snow into sensitive slabs mainly near and above treeline. These wind slabs are failing on the old snow/new snow interface that is predominately firm hard crusts or wind slabs. Facets that formed prior to this storm rest just beneath these crusts and slabs which is creating our persistent slab problem. WInd blown snow will help push us closer to a tipping point on many slopes, and although we haven't seen a widespread natural avalanche cycle so far, dangerous avalanche conditions exist and will probably stick around for a little while.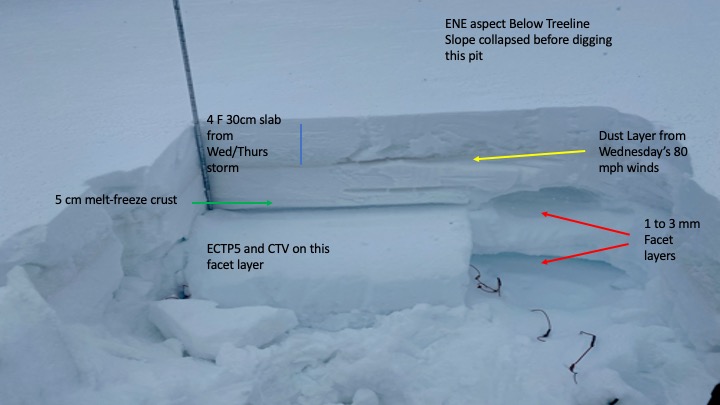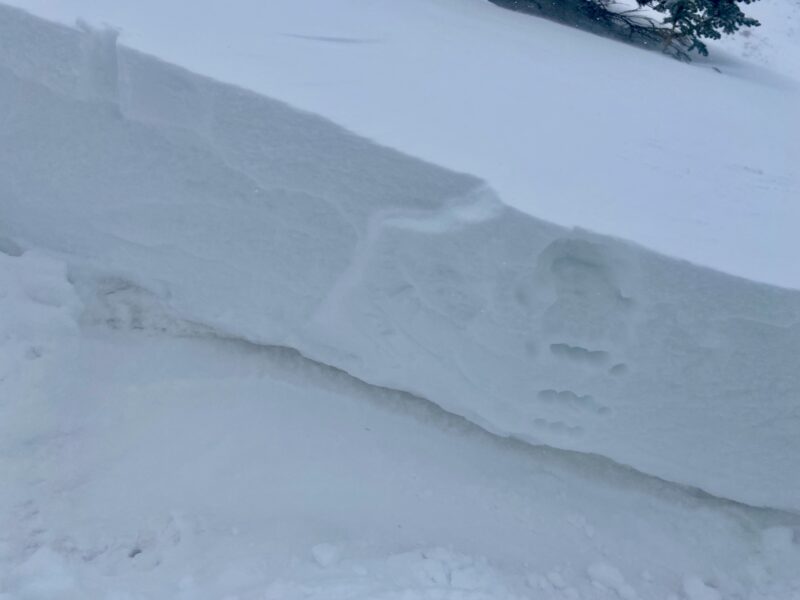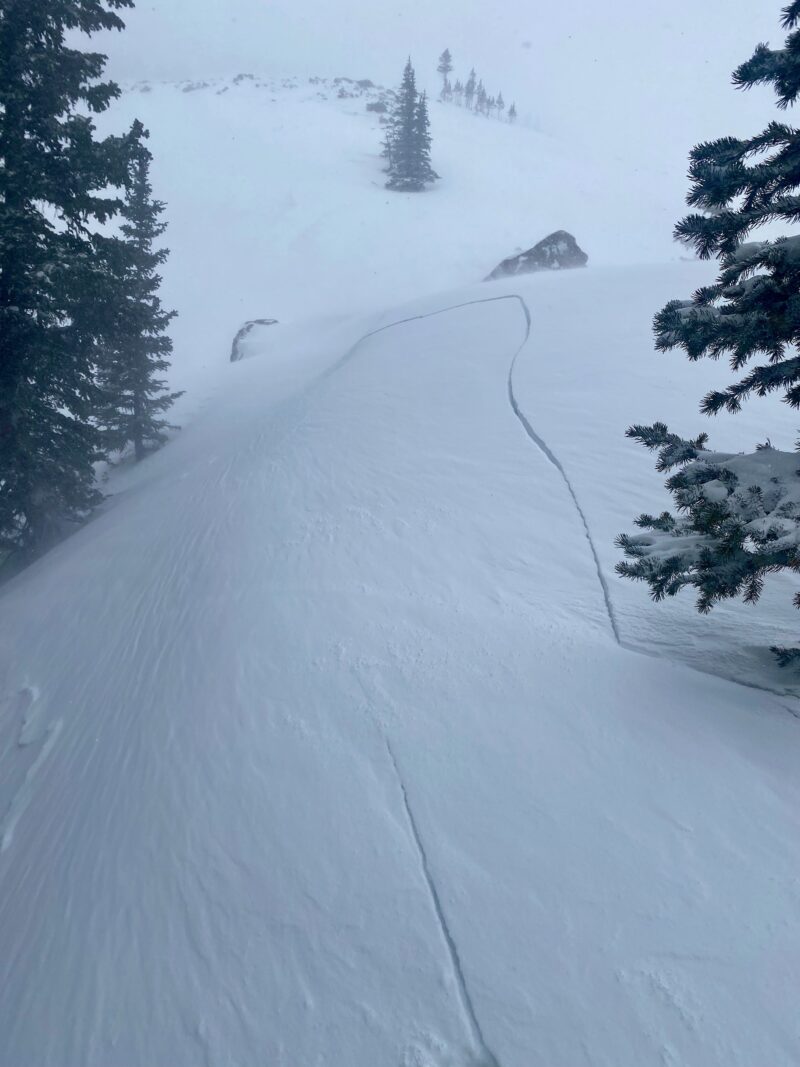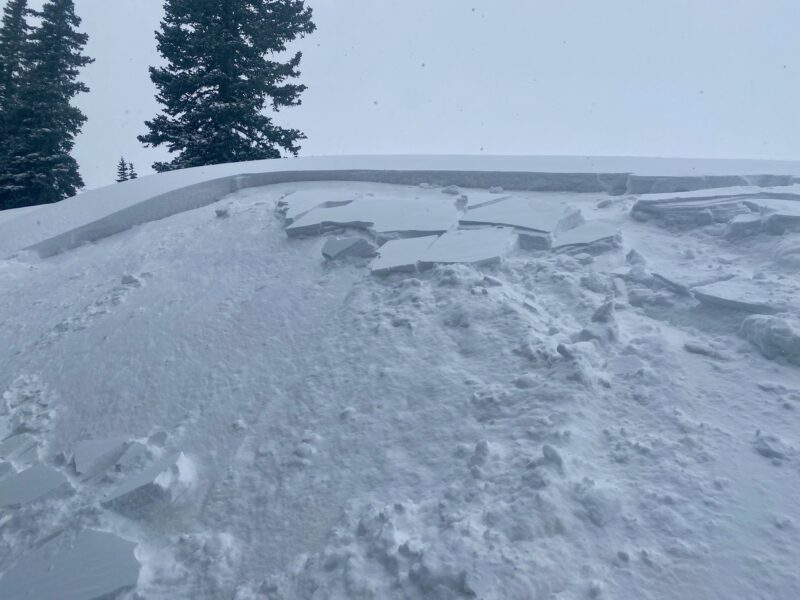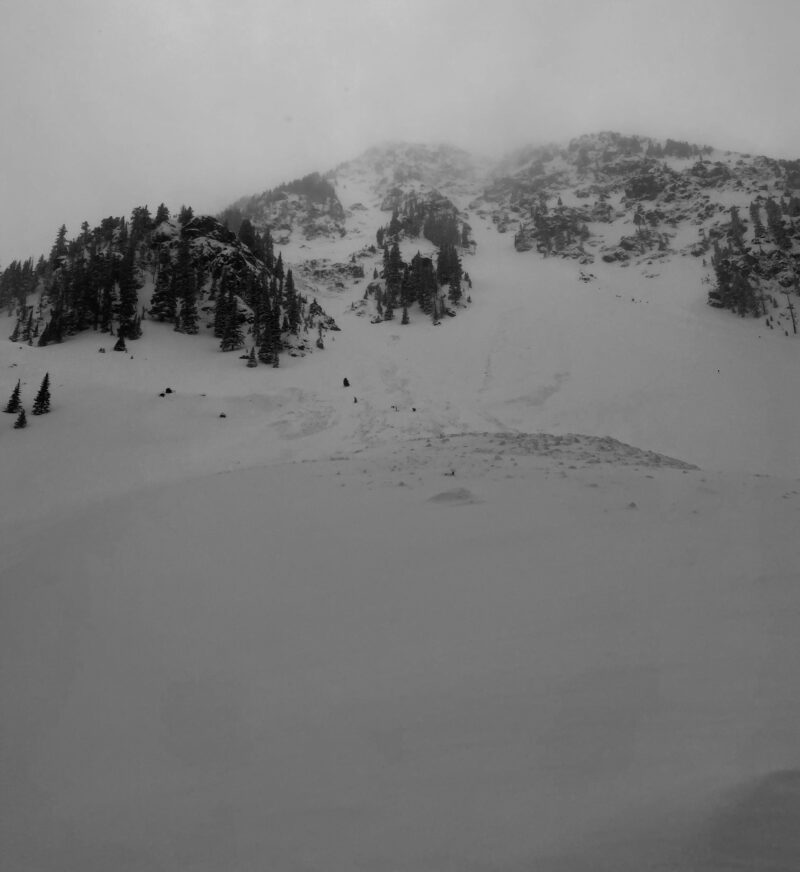 Advanced Information
Cloud Cover:
Obscured
Temperature:
-4 to 15
Wind:
Strong , W
Very cold day with temperatures below 0F and in the single digits. Light snow and graupel through the morning S-1 snowfall rate. West winds were in the 20 - 30 mph range gusting in the 40s and were easily transporting snow. Although prevailing winds are out of the west, the box canyon effect was creating swirling winds. Hard to fully gauge how much snow fell overnight due to the wind but 10 to 14 inches sounds about right.
#
Date
Location
Size
Type
Bed Sfc
Depth
Trigger
Photo
1
Today
Kachina Peak
NE 12,000'
D2
SS
O-Old Snow
N-Natural

1
Today

SW 11,500'
D1
SS
I-New/Old Interface
25 cm
AS-Skier
r-Remote
Visibility was tough to come by, but did observe some avalanche debris in the aprons, but not able to see crowns except for the one on Kachina Peak. I triggered 2 small wind slab avalanches on near treeline test slopes, one of which was remotely triggered from 100' away. These wind slabs were failing at the old snow/new snow interface on facet/density changes above crusts or hard slabs from prior wind events.
A dynamic day with weather and avalanche conditions. It was not a widespread natural avalanche cycle as snow totals and SWE was not enough to completely tip the scales which is why I held off on the Avalanche Warning.

Below treeline, there are about 10 inches of new snow, that is being blown around even at these lower elevations. At these elevations is where I was getting loud audible whumpfs, but was not able to trigger avalanches on steep test slopes. We haven't tipped the scales at these elevations, but faceted weak layers beneath these soft slabs are showing signs of being more reactive. It may take a little more wind and loading or some stiffening of the slab for avalanches activity to increase at these elevations.

Near and above treeline, winds are easily transporting snow into more reactive stiffening slabs. I was experiencing widespread cracking and remotely triggering wind slab avalanches that were failing on the old snow interface. Prior to this storm strong winds and warm sunny days created firm surfaces that these slabs rest on top of. These slabs were anywhere from 1 to 3 feet deep.

Did notice an obvious dust layer that most likely formed during Wednesday's strong winds that were 80 mph at ridgetops.

Did not make it to above treeline ridgelines but would imagine wind slabs are easily over 2 feet deep and seeing the most loading on the leeward sides of ridgelines and cross-loaded gullies that most likely will be testing deeper faceted layers.
Problem
Location
Distribution
Sensitivity
Size
Wind Slab

Isolated

Specific

Widespread

Unreactive

Stubborn

Reactive

Touchy

D1

D1.5

D2

D2.5

D3

D3.5

D4

D4.5

D5

Persistent Slab

Isolated

Specific

Widespread

Unreactive

Stubborn

Reactive

Touchy

D1

D1.5

D2

D2.5

D3

D3.5

D4

D4.5

D5
Close