Close
Basic Information
Observation Date:
February 18, 2022
Submitted:
February 18, 2022
Observer:
TAC - Andy
Zone or Region:
Taos Area
Location:
Williams Lake Area
Recent Avalanches?
Yes
Cracking?
None Experienced
Collapsing?
None Experienced

Most natural avalanche activity during yesterday's storm was small loose snow avalanches in steep terrain that relieved itself most likely in the early morning hours during 2 inch an hour precip rate.
Stability Rating:
Good
Confidence in Rating:
Moderate
Stability Trend:
Improving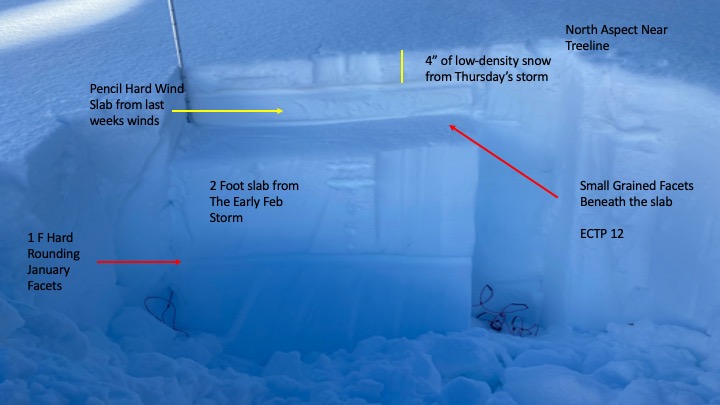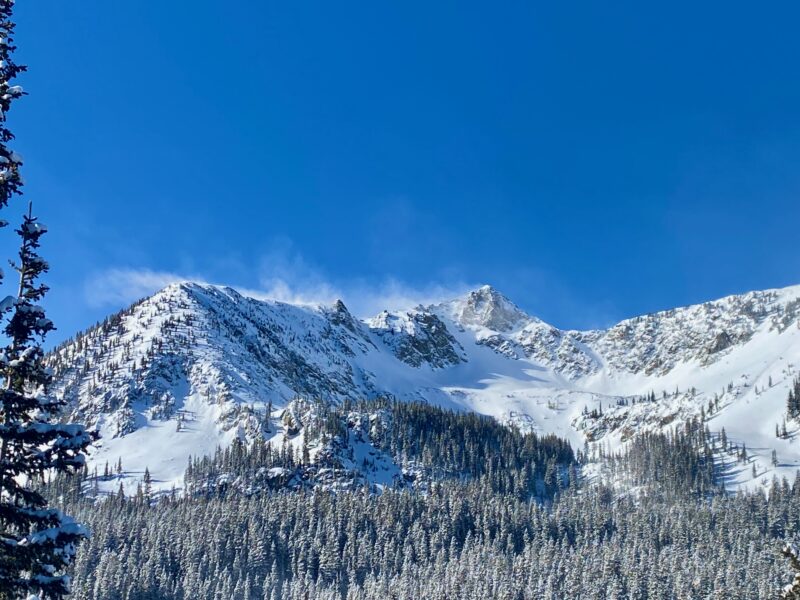 Advanced Information
Cloud Cover:
Clear
Temperature:
17 - 35
Wind:
Light , NW
Early in the morning winds were transporting snow at ridgelines, but winds calmed down throughout the day. There are still 4 to 6 inches of low-density snow available for transport if the winds do pick up. About 4 to 6 inches of light low-density snow with yesterday's storm.
#
Date
Location
Size
Type
Bed Sfc
Depth
Trigger
Photo
1
Past 24 hours
Kachina Peak
NE 12,000
D1
SS
O-Old Snow
N-Natural
Not much Natural avalanche activity which is to be expected with just 4 to 6 inches of low-density snow and moderate winds. Did observe some small loose snow sluffs in steep terrain. Some happened during the storm and others ran today naturally on South, East and West aspects that were directly in the sun.
Traveled through all three zones on a bunch of different aspects. South and West aspects formed a melt-freeze crust prior to the storm from the warm sunny weather. There is faceting going on beneath this crust but on most slopes, these melt-freeze crusts are stout with just 4 to 6 inches of low density on it, almost felt a little better than dust on crust!

Moderate to strong winds over the last week have created stiff wind slabs near and above treeline on north and east aspects (pencil hard on most slopes 5 to 15cm thick) that the new snow fell on. This slab is supportable and is easily holding the 4 to 6 inches of low-density snow. Did not observe any shooting cracks or loud audible collapses in travels.

In numerous snow pits I was finding a small-grained facet layer just beneath this slab failing with easy to moderate force and propagating in extended column tests. This facet layer formed over the last week of high pressure and is different than the January facets. The January facets are buried deeper, underneath slabs that formed from the Groundhog's Day Storm at the beginning of February. This facet layer is still present, but has been healing and compressing over the last two weeks and is buried about 3 feet down from the surface. These facets were typically 1 F hard and rounding which is a good sign. I still think with a big load or big trigger, we might see results but in the meantime, they seem to be on the mend and well insulated. I was not getting this layer to fail with very hard force.

It's that time of year when the intense sun at our southern latitude in the U.S. quickly heats up new snow on solar aspects. Even though temperatures were only in the low 30's at lower elevations, surface snow was becoming wet and gloppy by mid afternoon.
Problem
Location
Distribution
Sensitivity
Size
Persistent Slab

Isolated

Specific

Widespread

Unreactive

Stubborn

Reactive

Touchy

D1

D1.5

D2

D2.5

D3

D3.5

D4

D4.5

D5
The small-grained facets underneath stiff hard wind slabs that formed prior to the storm were the most reactive in snow pits today compared to the deeper January facet layer. A lack of natural avalanche activity isn't surprising considering these slabs are thick and dense and can hold a lot of weight. It's enough of a concern to stay heads up and realize that it will probably take hitting a "not so sweet spot" to pop a shallow hard slab avalanche.
Close