Close
Basic Information
Observation Date:
February 9, 2022
Submitted:
February 11, 2022
Observer:
TAC - Andy
Zone or Region:
Taos Area
Location:
No Name Peak
Recent Avalanches?
None Observed
Cracking?
None Experienced
Collapsing?
None Experienced

Last week's storm snow rests on a widespread faceted weak layer that is about 2 feet below the surface. Stiffer slabs from periods of moderate winds above treeline are where you're more likely to trigger a persistent slab avalanche. Taking the time to dig down a couple of feet into the snow is a great way to assess if a cohesive slab is able to propagate on the faceted weak layer below.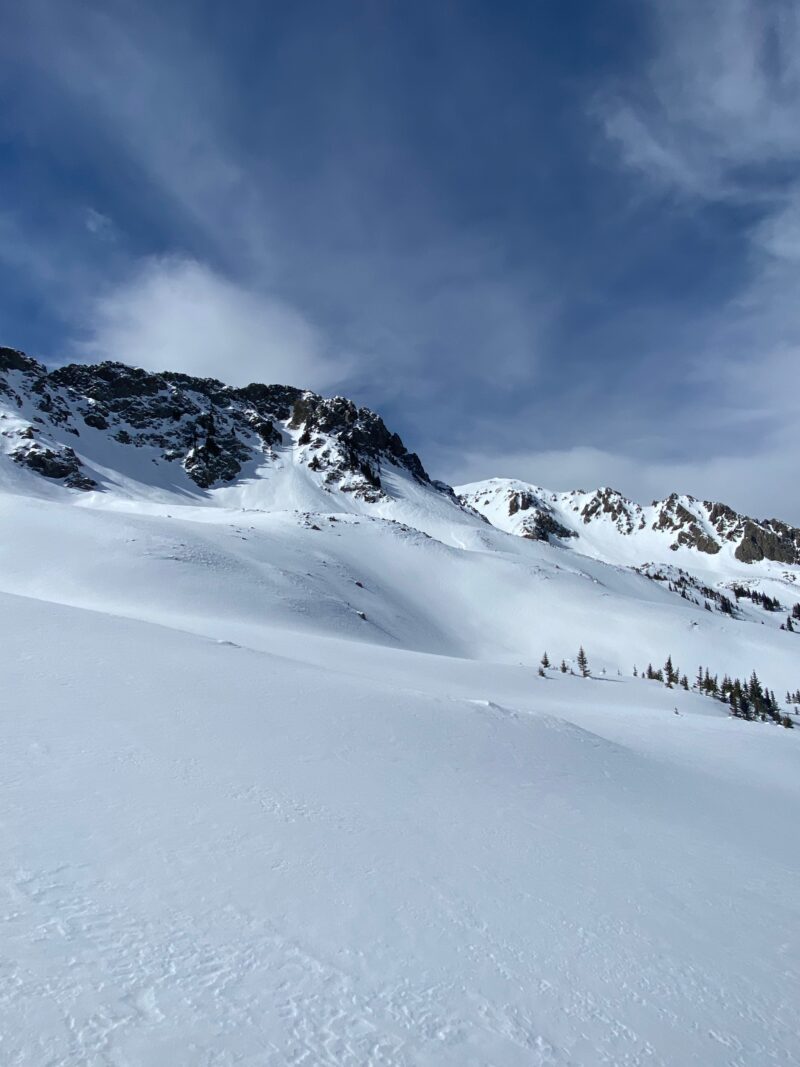 Advanced Information
Cloud Cover:
Clear
Temperature:
25 - 40
Wind:
Calm , NW
Another warm sunny day with calm to light winds at upper elevations. Did not observe drifting snow.
Headed up to No Name peak to check out near and above treeline terrain and how last weeks snow is reacting on a widespread facet layer that formed during the dry period of January. We were not observing any collapse or shooting cracks and a week of warm temperatures during the day and cold clear nights has helped decompose and weaken the upper portions of the snowpack where it wasn't wind affected.

Near treeline we were finding only isolated pockets of wind stiffened snow. Stability tests at these elevations, we were not getting propagating results in the soft slab.

Above treeline some slopes had stiffer surface snow from soft sastrugi to supportable hollow-sounding slabs. Some stability tests produced propagating failures on the facet layers about 2 feet blow the surface with moderate to hard force.

Overall skiing and riding conditions are great in wind-sheltered areas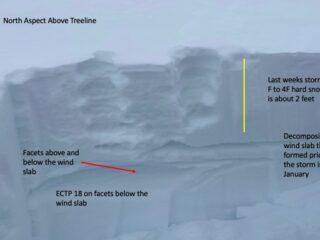 Problem
Location
Distribution
Sensitivity
Size
Persistent Slab

Isolated

Specific

Widespread

Unreactive

Stubborn

Reactive

Touchy

D1

D1.5

D2

D2.5

D3

D3.5

D4

D4.5

D5
The facet layer(s) that formed prior to last weeks storm is widespread and sits just below the 2 feet of snow from last week. The layer is not as reactive as it was just after the storm as the upper 2 feet of snow is not as cohesive of a slab due to a week of warm temperatures and cold clear nights. On specific slopes above treeline we were finding a more cohesive slab that was able to propagate with moderate to hard force in stability tests.
Close