Close
Basic Information
Observation Date:
December 27, 2021
Submitted:
December 27, 2021
Observer:
TAC - Andy Bond
Zone or Region:
Taos Area
Location:
Sin Nombre
Recent Avalanches?
Yes
Cracking?
None Experienced
Collapsing?
None Experienced

Did not observe any collapsing or shooting cracks today in our travels
Stability Rating:
Poor
Confidence in Rating:
High
Stability Trend:
Worsening

Basal facets and depth hoar continue to be the main concern on northerly and east aspects where the old faceted snow from November and December are now capped with 2 to 4-foot slabs from the Christmas Eve storm.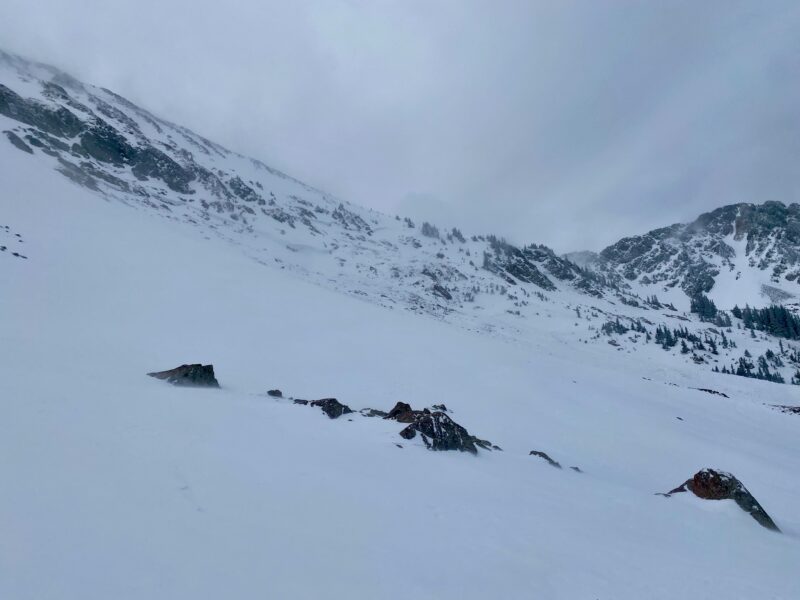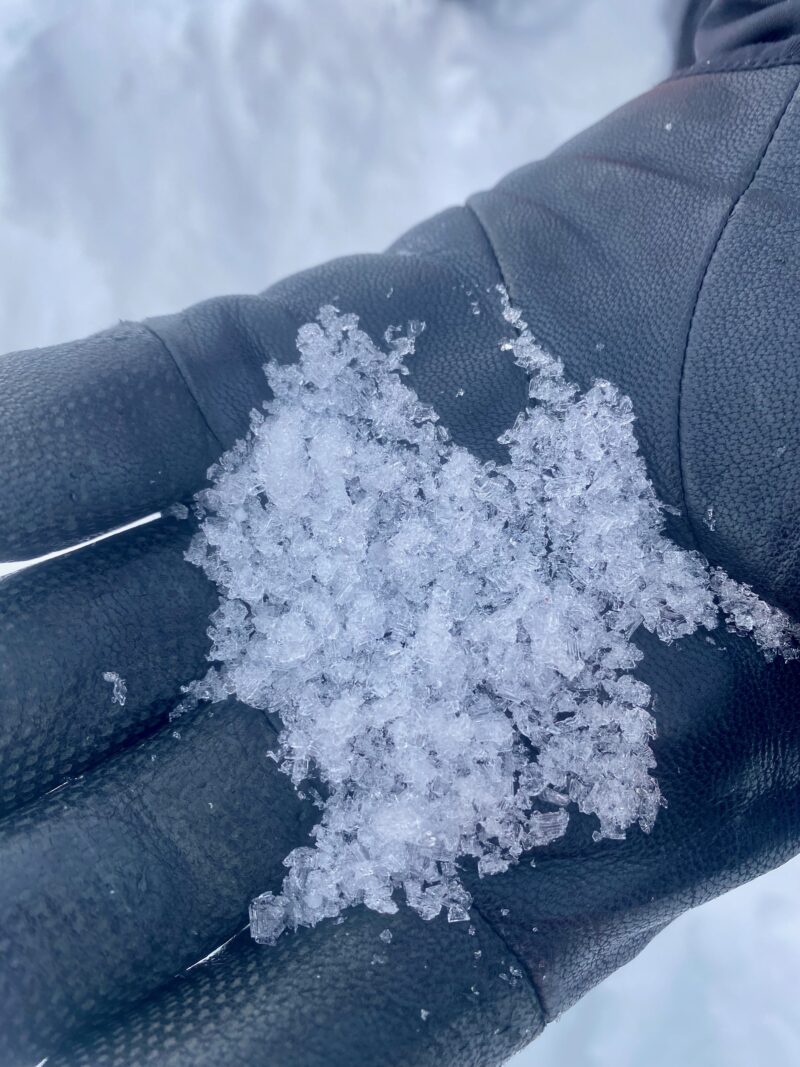 Advanced Information
Cloud Cover:
Mostly Cloudy
Temperature:
10 - 18
Wind:
Moderate , SW
Mostly cloudy with occasional clearing. Winds were in the 20's out of the SW and easily transporting snow.
#
Date
Location
Size
Type
Bed Sfc
Depth
Trigger
Photo
1
Past 48 hours
Sin Nombre
N
D2
SS
G-Ground
3 - 4'
N-Natural
This slope on No Name propagated several hundred feet wide. This slope gets cross-loaded and appears to be more recent than the avalanches observed on Christmas Day.
Strong winds on Sunday have stiffened the surface, with wind-sheltered slopes still providing soft chalky turns. We dug a pit on an adjacent slope to the natural avalanche on Sin Nombre. The pit shows a 3 foot 1 Finger hard slab from the Christmas Eve storm above 30cm of 2mm depth hoar to the ground. Stability tests all failed on isolation.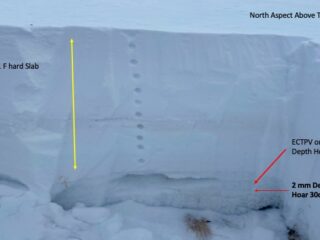 Problem
Location
Distribution
Sensitivity
Size
Persistent Slab

Isolated

Specific

Widespread

Unreactive

Stubborn

Reactive

Touchy

D1

D1.5

D2

D2.5

D3

D3.5

D4

D4.5

D5
Basal facets and depth hoar on or near the ground is the main concern on northerly and east-facing slopes.
Kept it mellow, just wanted to get better observations with visibility improving before the next series of storms.
Close