Close
Basic Information
Observation Date:
December 25, 2021
Submitted:
December 26, 2021
Observer:
TAC - Andy Bond
Zone or Region:
Taos Area
Location:
No Name Trees
Recent Avalanches?
Yes
Cracking?
Widespread
Collapsing?
Widespread

Widespread collapsing and cracking on northerly and east aspects. New snow from Christmas eve created dense heavy slabs with very little ski penetration. It would sometimes take jumping on a slope or having multiple people to get the slope to collapse and crack.
Stability Rating:
Poor
Confidence in Rating:
High
Stability Trend:
Worsening
Advanced Information
Cloud Cover:
Mostly Cloudy
Temperature:
18 - 25
Wind:
Moderate , SW
SW winds were blowing in the 20's easily transporting new snow (Our tracks from earlier were filled back in near treeline). S -1 snowfall rate in the morning with mostly cloudy skies, and occasional short bits of clearing.

12 to 20 inches of heavy dense snow from the Christmas eve storm with only 10 cm of ski penetration.
#
Date
Location
Size
Type
Bed Sfc
Depth
Trigger
Photo
1
Past 24 hours
No Name Trees
NE 11,200
D1
SS
G-Ground
N-Natural
Visibility was difficult throughout the day, but did observe some crowns on the backside of Kachina Peak on a NE aspect above treeline. There was a natural avalanche in the Kandahar path above the Kandahar Condos below treeline. This avalanche ran on basal facets naturally sometime Friday evening.
Dense snow from the Christmas Eve storm made for easy travel with only a little bit of ski penetration. Stability tests produced easy results with full propagation failing on the basal facets near the ground.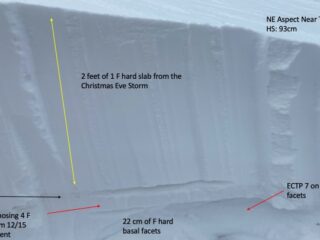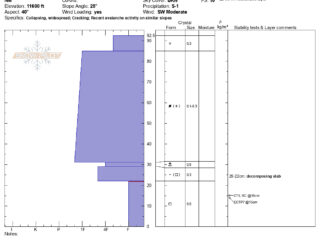 Problem
Location
Distribution
Sensitivity
Size
Persistent Slab

Isolated

Specific

Widespread

Unreactive

Stubborn

Reactive

Touchy

D1

D1.5

D2

D2.5

D3

D3.5

D4

D4.5

D5
Stuck to low angle terrain and inspected northerly aspects near treeline.
Close