Close
Basic Information
Observation Date:
March 24, 2021
Submitted:
March 24, 2021
Observer:
TAC - Andy Bond
Zone or Region:
Taos Area
Location:
Ring Finger Area
Recent Avalanches?
Yes
Cracking?
Widespread
Collapsing?
Isolated

Cracking and collapsing started near and above treeline where strong winds have created stiffening slabs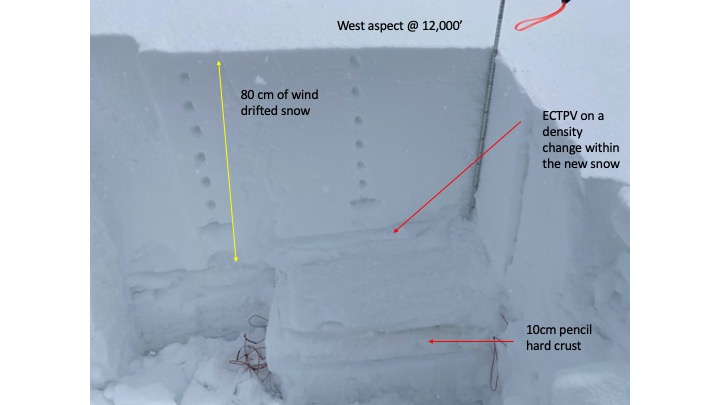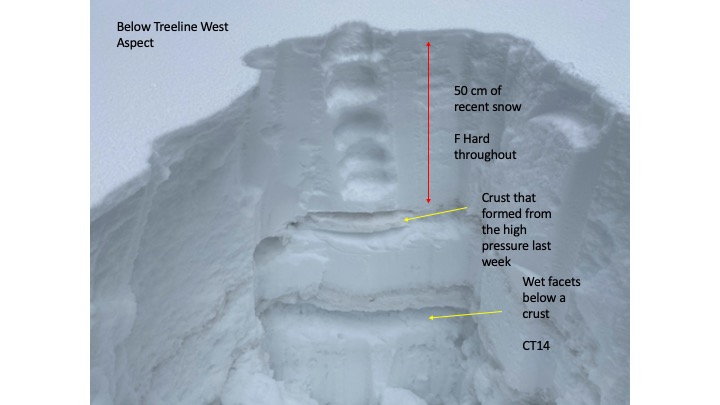 Advanced Information
Cloud Cover:
Overcast
Wind:
Moderate , E
Snowing throughout the morning before tapering off. East winds were in teens and 20's at ridgetops and were easily transporting snow into thickening and stiffening slabs.
#
Date
Location
Size
Type
Bed Sfc
Depth
Trigger
Photo
1
Today
Peace Sign
W
D1
SS
N-Natural
We thought we noticed a crown on a cross-loaded slope across the valley, but with difficult visibility it was hard to tell.
Skiing and riding is fantastic right now with close to 2 feet of powder.

There is a big difference between below treeline and higher elevations that are exposed to the wind. Overall, 16 to 20 inches of snow has fallen in the last two days that mainly sits on top of crusts that formed during the high-pressure period of sunny days and warm temperatures. Below treeline on wind-sheltered terrain, we were not noticing any instability within the new snow. In a pit on a west aspect around 10,500' there are weak wet facets in the mid-pack. We were getting this layer to fail with moderate force in compression tests.

Near and above treeline wind transported snow was creating stiffening slabs that were more reactive in our travels. We were getting shooting cracks and some loud audible collapses. We were finding slabs to be 2 to 3 feet thick resting on top of the obvious dust layer in the crust that proceeded this storm. In steep test slopes and stability tests we were getting the wind slabs to fail with easy force or off our ski tips on a density change just above the crust, most likely from the storm snow on Monday evening that came in with little to no wind.
Problem
Location
Distribution
Sensitivity
Size
Wind Slab

Isolated

Specific

Widespread

Unreactive

Stubborn

Reactive

Touchy

D1

D1.5

D2

D2.5

D3

D3.5

D4

D4.5

D5
Wind slabs near and above treeline were continuing to build and stiffen. In stability tests, we were getting these slabs to fail on a density change above a crust from Monday evening snow.
Close