Close
Basic Information
Observation Date:
March 14, 2021
Submitted:
March 14, 2021
Observer:
TAC - Andy Bond
Zone or Region:
Taos Area
Location:
Storm Slabs
Recent Avalanches?
Yes
Cracking?
Isolated
Collapsing?
None Experienced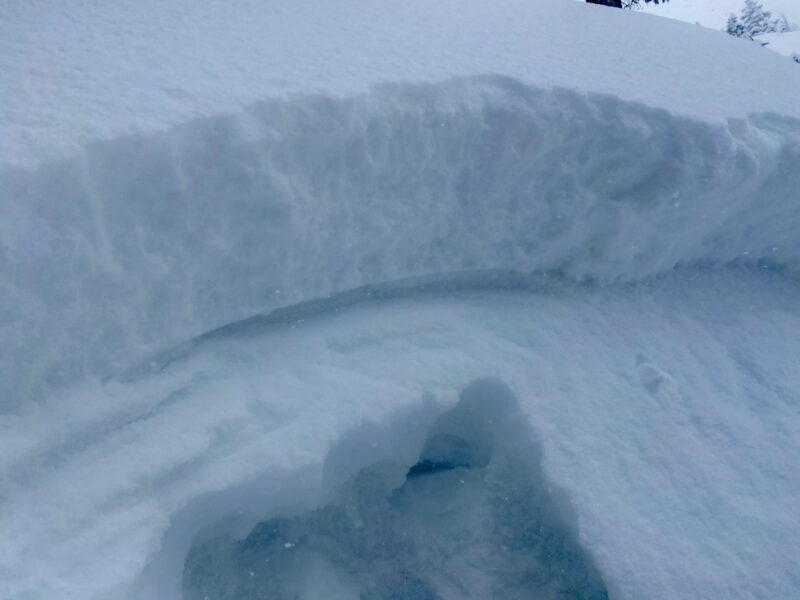 Advanced Information
Cloud Cover:
Obscured
Temperature:
8 - 23
Wind:
Moderate , W
West winds were blowing in the high teens and 20's at ridgelines with gusts in the high 30's. Snow throughout the day and since 5 AM we've picked up an additional 8 to 10 inches of snow.
Snow totals as of 2 PM are anywhere from 16 to 22 inches with 1.5" of snow water equivalent measured at the snotel site. Snow was continuing to fall and should last through the evening. In travels today, we did trigger a small storm slab avalanche on a small convex test slope that failed on near-surface facets on a north aspect.

Visibility was not the greatest today, but we did observe a couple of natural avalanches mainly near and above treeline as well as a large debris pile far down in the runout of an avalanche path on the backside of Kachina Peak. Early this morning we had reports of natural avalanches running long distances well into the flats. With better visibility tomorrow hopefully we'll get a better extent of the avalanche activity from today.


Problem
Location
Distribution
Sensitivity
Size
Storm Slab

Isolated

Specific

Widespread

Unreactive

Stubborn

Reactive

Touchy

D1

D1.5

D2

D2.5

D3

D3.5

D4

D4.5

D5
Kept it very mellow, with poor visibility and increased avalanche hazard.
Close