Close
Basic Information
Observation Date:
February 19, 2021
Submitted:
February 19, 2021
Observer:
TAC - Andy Bond
Zone or Region:
Taos Area
Location:
Wind Slabs and Natural Avalanches
Recent Avalanches?
Yes
Cracking?
Isolated
Collapsing?
None Experienced

Avalanche activity was confined to near and above treeline where we've seen the impacts of the winds transporting snow.

Wind loading near and above treeline is stiffening wind slabs, building overhanging cornices and loading slopes. We saw an uptick in natural avalanche activity today from wind slabs to persistent slab avalanches. With increasing winds tonight into tomorrow and still lots of snow available for transport, expect this trend to continue tomorrow.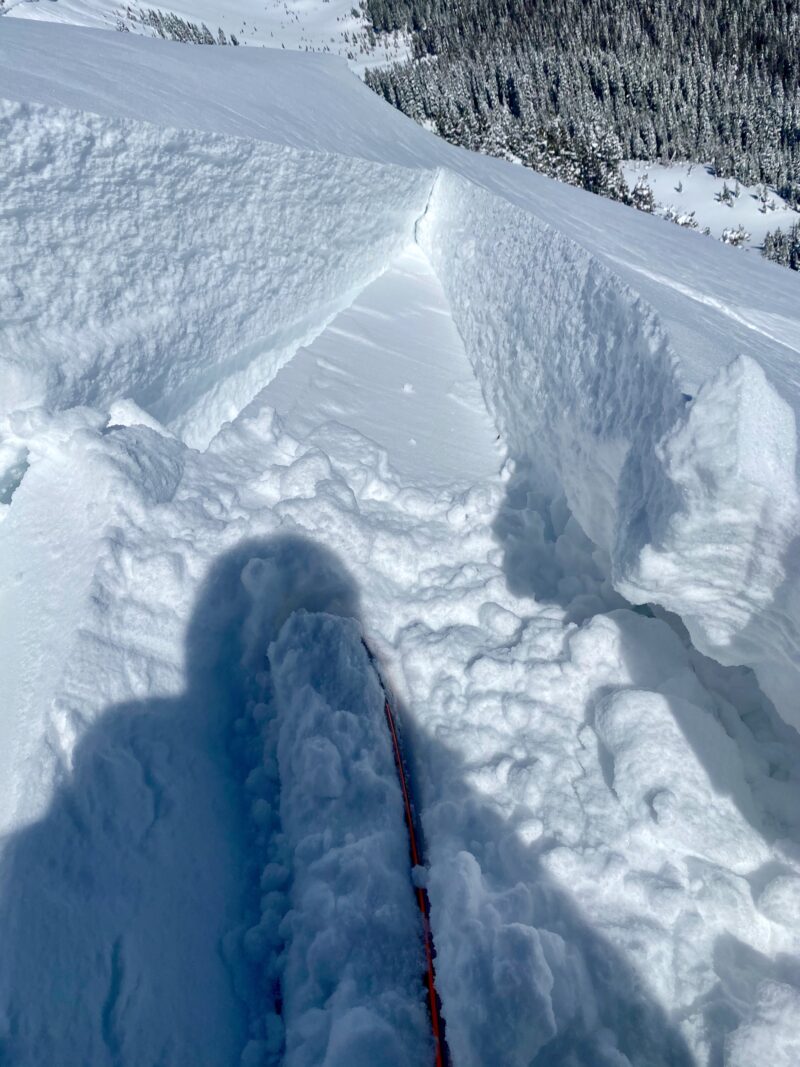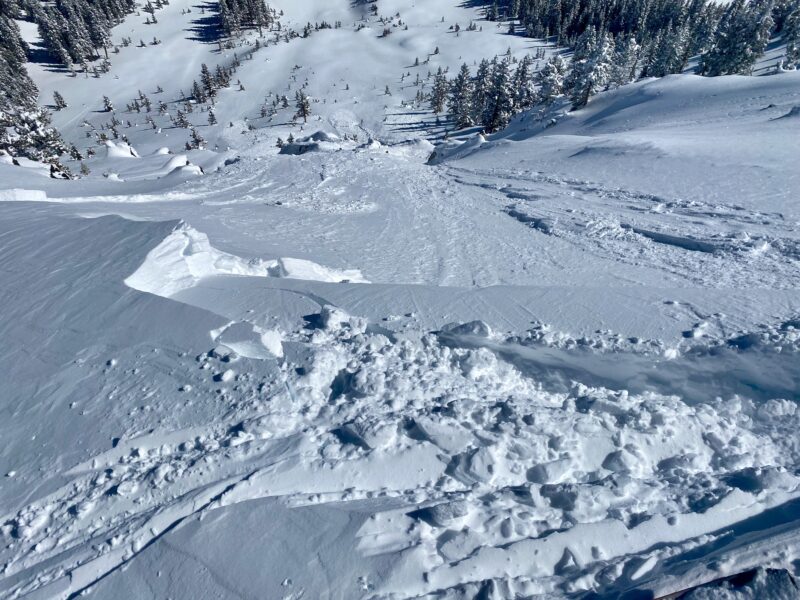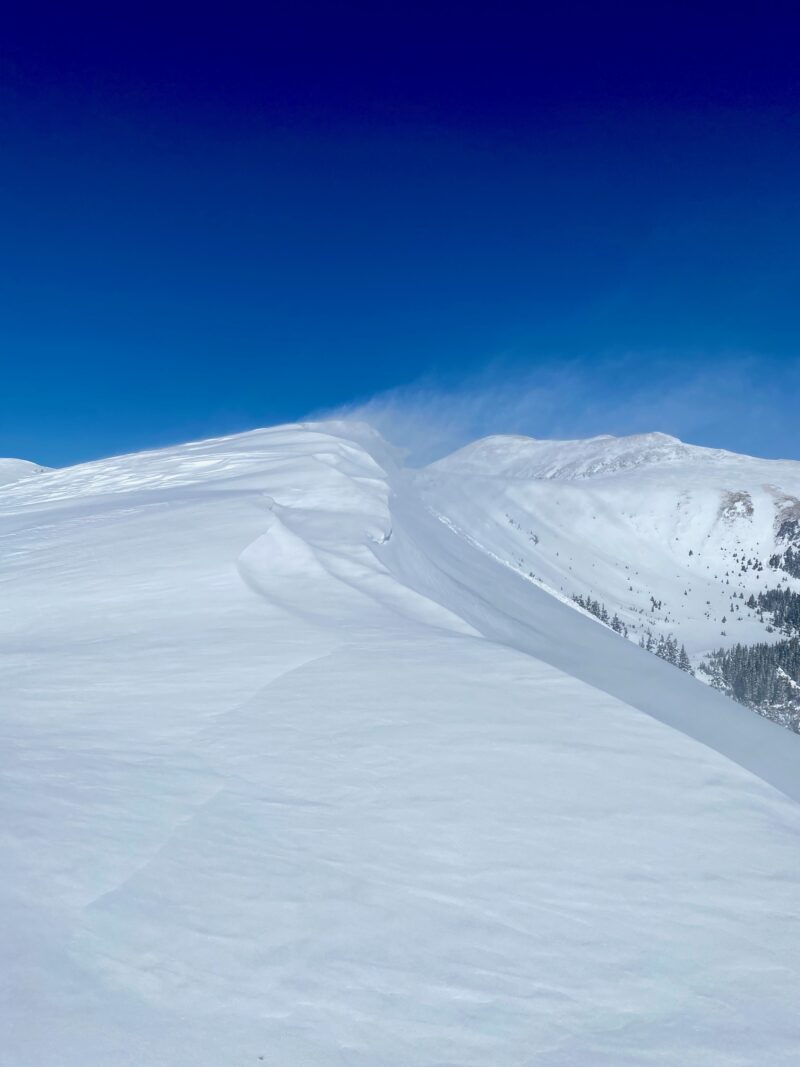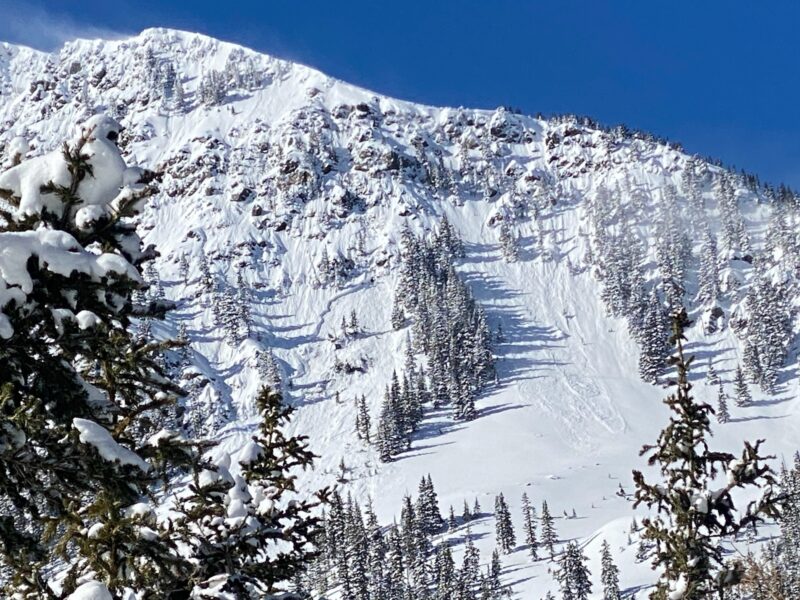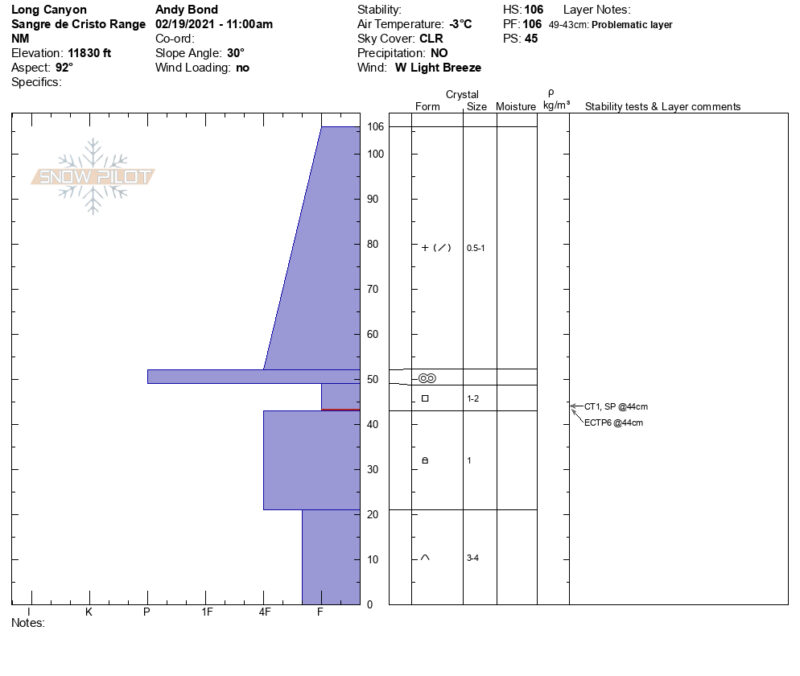 Advanced Information
Cloud Cover:
Clear
Temperature:
15 - 30
Wind:
Moderate , W
Beautiful warm sunny day. Winds were calm below treeline and 15 to 20 at ridgetops. Snow was being transported and loaded on leeward slopes. Solar aspects were taking heat and forming a crust on the surface.
Finally saw an uptick in natural avalanche activity today, most likely due to increased loading from the moderate wind speeds today. Several wind slab avalanches near and above treeline on E aspects just below the leeward sides of ridgelines. It did look like we finally had a natural persistent slab avalanche on the backside of Kachina Peak.
Felt good to be back in the sun after a week of storms. Solar aspects below 12,000' were taking heat and forming sun crusts on the surface. Didn't observe loose snow avalanches but did see lots of rollerballs and pinwheels on the solar aspects. Bring the Glob-Stopper!

Winds were light below treeline but picked up at ridgetops with snow being transported with the moderate west winds. Stiffening wind slabs were forming on the leeward sides of ridgelines. Cornices were growing and overhanging and breaking back further than expected on ridgelines. Intentionally triggered several wind slab avalanches today on NE aspects either with ski cuts or kicking cornices.
Problem
Location
Distribution
Sensitivity
Size
Wind Slab

Isolated

Specific

Widespread

Unreactive

Stubborn

Reactive

Touchy

D1

D1.5

D2

D2.5

D3

D3.5

D4

D4.5

D5
Close