Close
Basic Information
Observation Date:
February 18, 2021
Submitted:
February 18, 2021
Observer:
TAC - Andy Bond
Zone or Region:
Taos Area
Location:
Northerly Aspects
Recent Avalanches?
Yes
Cracking?
None Experienced
Collapsing?
None Experienced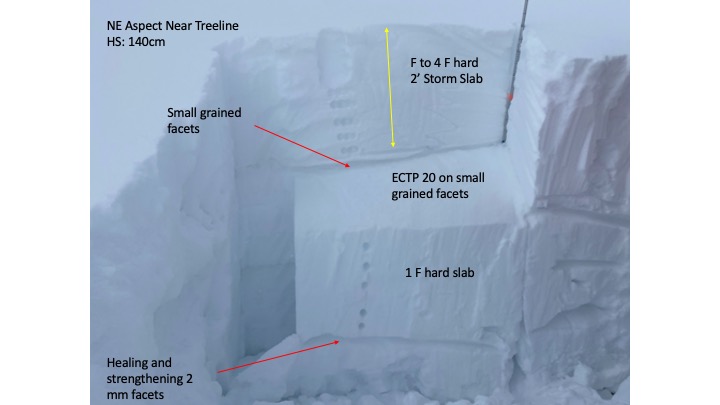 Advanced Information
Cloud Cover:
Mostly Cloudy
Temperature:
10 - 20
Wind:
Light , W
A mix of sun and clouds with light snowfall but no real accumulation. Winds were in the single digits gusting into the high teens out of the West. There is a ton of snow still available for transport and winds should be picking up this evening into tomorrow.
The skiing and riding has been fantastic! Not much new to report with high level of variability with snowpack depths from some slopes with 1.5 m of snow and others having close to 3 m of snow. In the shallow snowpacks, faceted weak layers have been slower to heal and easier to trigger. Deeper snowpacks have seen a greater level of healing and strengthening of facets that are buried deeper in the snowpack.

On some slopes we are finding reactive buried near-surface facets beneath a melt-freeze crust and wind-packed slab that formed on 2/12 just before the Valentine's Day storm. These facets have the 2 to 3-foot storm slabs on top.
Close