Close
Basic Information
Observation Date:
February 14, 2021
Submitted:
February 14, 2021
Observer:
TAC - Andy Bond
Zone or Region:
Taos Area
Location:
No Name to Ring Finger
Recent Avalanches?
Yes
Cracking?
None Experienced
Collapsing?
None Experienced
Stability Rating:
Fair
Confidence in Rating:
Moderate
Stability Trend:
Improving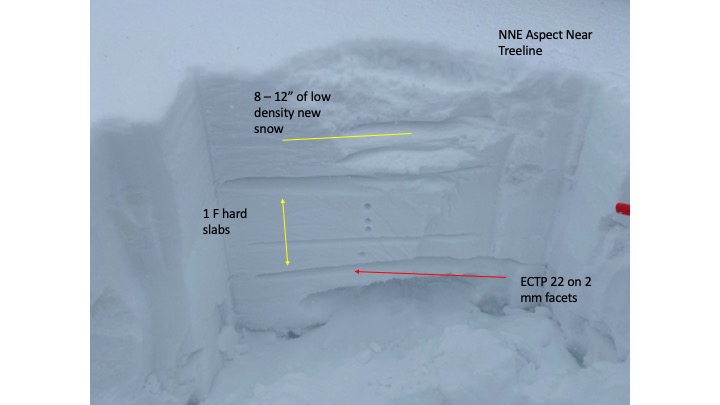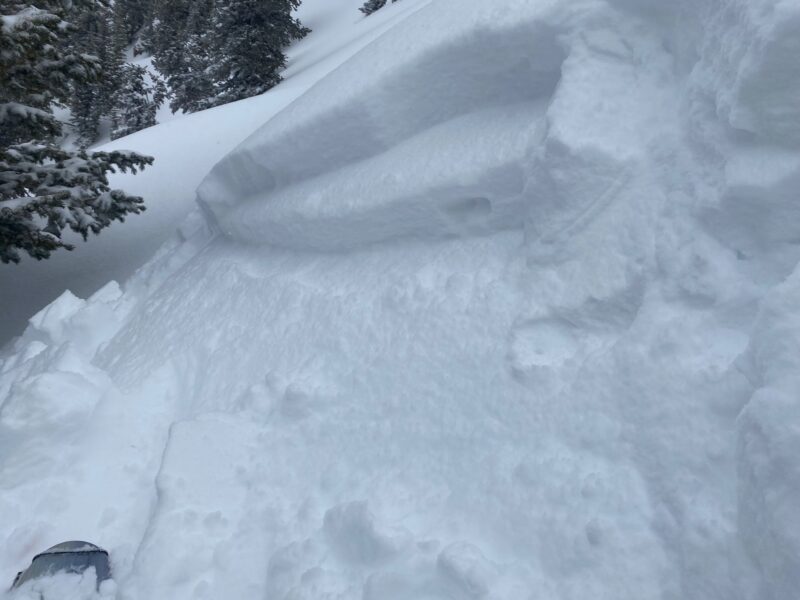 Advanced Information
Cloud Cover:
Overcast
Temperature:
5 - 10
Wind:
Light , SW
Light snowfall throughout the day with maybe an inch of accumulation. Winds were light mainly in the single digits with gusts in the teens out of the SW. We did not observe any snow being transported, but visibility was not the best. There is a lot of low density snow available for transport.
It seemed like we picked up 8 to 12 inches of snow with most of it low-density blower powder. It was some of the best skiing we've had all year today! Wind prone slopes had stiffer more cohesive slabs that formed over crusts and firm surfaces. Leeward sides of ridgelines and cross-loaded terrain features are the most suspect right now as they've seen the most loading and enough cohesion to be able to propagate.

Below Treeline: the snowpack is still incredibly weak with ski and pole penetration all the way to the ground as most of the snowpack consists of facets. Surprisingly we did not observe any collapsing and cracking today in our travels.

Near Treeline: Is a mixed bag with non-wind prone slopes similar to below treeline, consisting of a shallow weak faceted snowpack. Other slopes that open and exposed to winds or are approaching above treeline are deeper with settled cohesive slabs in deeper snowpack with faceted weak layers that are harder to impact. Some of these slopes have stiffer slabs from the 20 mph winds last night during the storm and have stiffening storm slabs that are more reactive.

Above treeline: Winds during the storm have stiffened slabs that are sitting on top of firm surfaces that formed from last weeks winds. Faceted weak layers continue to persist deeper down in the snowpack but would be hard to impact. If you did though and was able to get the slope to fail it would be a very large avalanche.
Problem
Location
Distribution
Sensitivity
Size
Wind Slab

Isolated

Specific

Widespread

Unreactive

Stubborn

Reactive

Touchy

D1

D1.5

D2

D2.5

D3

D3.5

D4

D4.5

D5

Persistent Slab

Isolated

Specific

Widespread

Unreactive

Stubborn

Reactive

Touchy

D1

D1.5

D2

D2.5

D3

D3.5

D4

D4.5

D5
Close