Close
Basic Information
Observation Date:
February 9, 2021
Submitted:
February 9, 2021
Observer:
TAC - Andy Bond
Zone or Region:
Taos Area
Location:
Wildy Bowl
Recent Avalanches?
None Observed
Cracking?
None Experienced
Collapsing?
None Experienced
Stability Rating:
Good
Confidence in Rating:
Moderate
Stability Trend:
Improving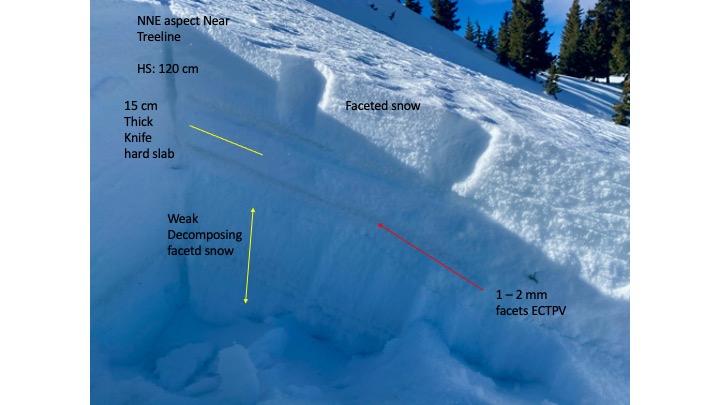 Advanced Information
Cloud Cover:
Mostly Sunny
Temperature:
25 - 40
Wind:
Moderate , SW
Warm spring-like day with winds in the 20's at ridgetops but no snow was being transported
It was a great day out with Ben and Otto today helping them work on a high school avalanche research project!

A mixed bag of results today:

Below Treeline: Warm temperatures these last several days have really started to take effect on the lower elevation snowpack. We are quickly melting away and crusts on the surfaces are present on all but true north aspects. There is still a poor snowpack structure on northerly aspects but I suspect it would be difficult to trigger an avalanche at these elevations right now.

Near and Above Treeline: We are finding a high level of variability from slope to slope. Deeper snowpacks are showing signs of healing and strengthening of faceted weak layers. Depth hoar and facets are still there but we are getting moderate to harder results in long column tests. Shallow snowpacks (< 150cm) are not healing as quickly. Some slopes have hard slabs from previous wind events that have not avalanched. You really need to take it slope to slope right now as previous crowns are filled in and the spatial variability is tremendous right now. Weak layers of concern still remain near or on the ground which highlights the low likelihood but high consequences if you were to trigger an avalanche.
Problem
Location
Distribution
Sensitivity
Size
Persistent Slab

Isolated

Specific

Widespread

Unreactive

Stubborn

Reactive

Touchy

D1

D1.5

D2

D2.5

D3

D3.5

D4

D4.5

D5
Close