Close
Basic Information
Observation Date:
February 6, 2021
Submitted:
February 6, 2021
Observer:
TAC - Andy Bond
Zone or Region:
Taos Area
Location:
Wheeler Peak Chutes
Recent Avalanches?
Yes
Cracking?
None Experienced
Collapsing?
None Experienced
Stability Rating:
Fair
Confidence in Rating:
Low
Stability Trend:
Steady

There is a lot of uncertainty right now and even though we are at a Moderate avalanche danger I would not trust any slope over 35 degrees right now regardless of aspect. To see Large unsurvivable, unmanageable natural avalanches with the lack of any significant load is making me take a step back and reconsider everything. This is a bad snowpack and the consequences would be catastrophic if you were on one of these slopes. TIME TO KEEP IT MELLOW AND STICK TO LOW ANGLE TERRAIN!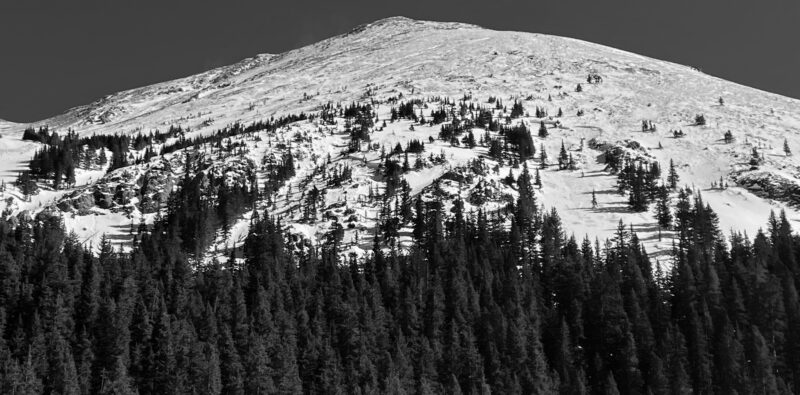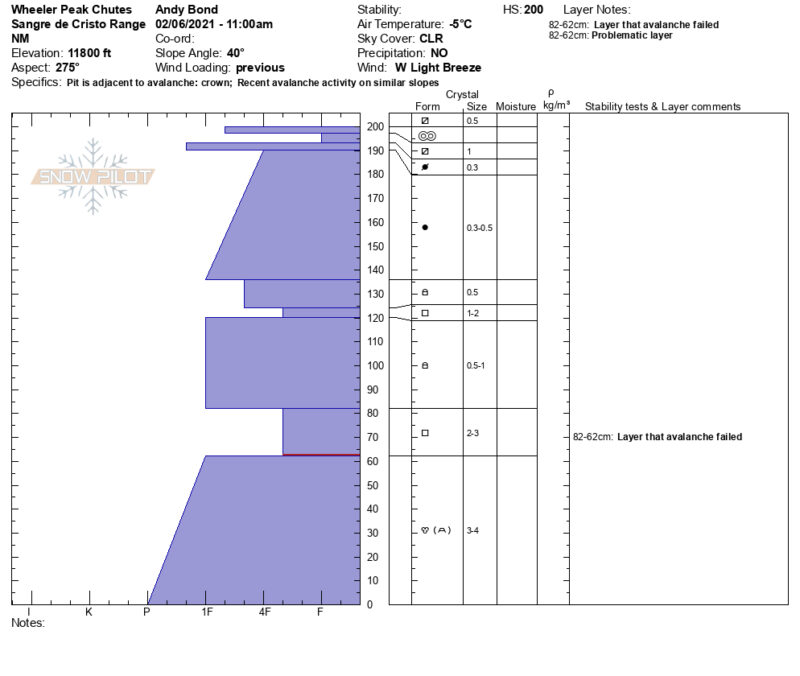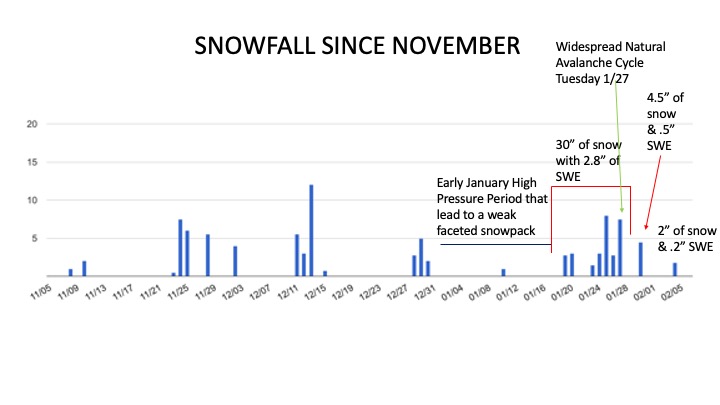 Advanced Information
Cloud Cover:
Clear
Temperature:
10 - 25
Wind:
Moderate , W
Sunny, beautiful day with temperatures in the teens and 20's but felt warm in the sun. West winds were in the teens and 20's gusting in the 30's but we did not observe much snow being tranpsported.
#
Date
Location
Size
Type
Bed Sfc
Depth
Trigger
Photo
1
Past 48 hours
Wheeler Peak Chutes
W 11,800
D2.5
HS
O-Old Snow
2 - 5'
N-Natural
It's a scary snowpack and the fact that we continue to find large natural avalanches that happened in the past 48 hours without any significant loading is concerning. Today we were surprised to see large natural crowns on the west-facing cross-loaded slopes below Wheeler Peak. This was a large unsurvivable avalanche that put significant debris running almost near Williams Lake.


Problem
Location
Distribution
Sensitivity
Size
None Specified

Isolated

Specific

Widespread

Unreactive

Stubborn

Reactive

Touchy

D1

D1.5

D2

D2.5

D3

D3.5

D4

D4.5

D5
Can't trust this snowpack and booted up a bed surface to check out the crown. Wouldn't want to get on anything over 35 degrees right now!
Close