Close
Basic Information
Observation Date:
January 20, 2021
Submitted:
January 20, 2021
Observer:
TAC - Andy Bond
Zone or Region:
Taos Area
Location:
A Tale of Two Snowpacks
Recent Avalanches?
Yes
Cracking?
None Experienced
Collapsing?
None Experienced
Stability Rating:
Poor
Confidence in Rating:
Moderate
Stability Trend:
Improving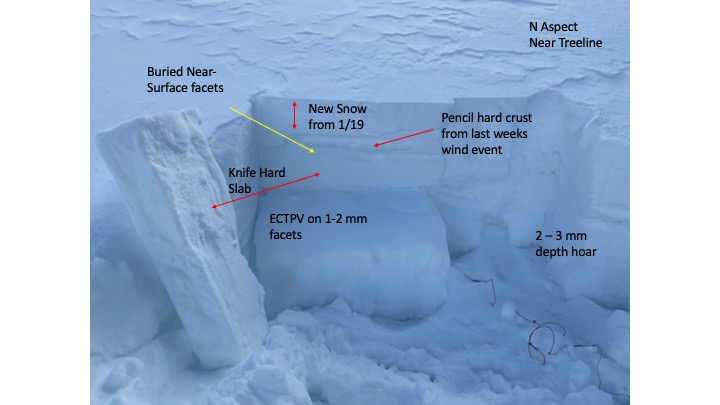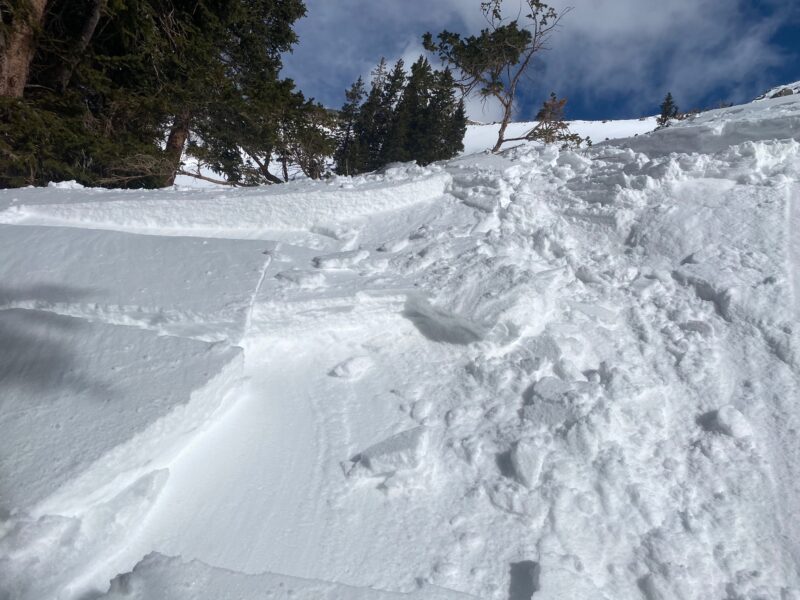 Advanced Information
Cloud Cover:
Partly Cloudy
Temperature:
18 - 26
Wind:
Moderate , W
A mix of sun and clouds today with moderate west winds. There was some snow transporting above treeline but west-facing slopes (windward side) had been stripped with the moderate to strong winds over the last 24 hours.
As the title indicates we are seeing two distinct snowpacks right now. One is Below Treeline and Near Treeline in wind-sheltered areas, the other is open exposed slopes and above treeline.

Below Treeline: In this snowpack, it is faceted and cohesionless. In recent travels just skinning uphill and breaking trail, you'd think it's a deep powder day as you're breaking trail in 3 to 4 feet of snow. You know it's a weak faceted snowpack when even on 122mm underfoot skis, you're sinking to the ground. In these snowpacks, we lack any form of a slab and the biggest hazard still remains hitting natural obstacles. In steep terrain, you may be able to get loose snow avalanches that are able to entrain and gouge snow to the ground.

Above Treeline: This is where our avalanche hazard lies. There's no easy way to say it, but it's a scary snowpack. At these elevations on NW through East aspects, we have several slab/weak layer combinations in an overall shallow snowpack. Last week's wind event before the storm laid down a hard crust with buried near-surface facets beneath. This layer now has 8" to over a foot of windblown new snow on top. On many slopes beneath this layer is still a hard slab with large grain facets beneath and depth hoar near the ground. We've received at least 8" of new snow at these elevations and wind transported snow has built slabs over 1' in spots.

Near Treeline: Wind sheltered slopes are like below treeline and open exposed slopes are similar to above treeline.
Problem
Location
Distribution
Sensitivity
Size
Persistent Slab

Isolated

Specific

Widespread

Unreactive

Stubborn

Reactive

Touchy

D1

D1.5

D2

D2.5

D3

D3.5

D4

D4.5

D5
I often wonder on days like these if we put 1000 people skiing and riding in our terrain how many avalanches we would've had. We've had zero tracks and no one is skiing this terrain. That's a good thing!
Hard to trust any slope right now on NW through E aspects near and above treeline. We've not been stepping out into steep terrain which makes it hard here in Taos as that's all we have!
Close