Close
Basic Information
Observation Date:
January 19, 2021
Submitted:
January 19, 2021
Observer:
TAC - Steve Gately
Zone or Region:
Taos Area
Location:
North and East Aspects Near Treeline
Recent Avalanches?
Yes
Cracking?
Widespread
Collapsing?
Widespread
Stability Rating:
Poor
Confidence in Rating:
Moderate
Stability Trend:
Steady

We observed 4 to 6 inches of new snow near and above treeline. Below treeline you can expect to find closer to 2 to 4 inches. We found 4 to 6 inches to be enough to stress our current snowpack and signs of this were evident where we went looking. South/Southeast winds have drifted snow in unusual places but it's easy to spot from a distance. We found drifts up to 12 inches in depth. We found two test slopes with wind drifted snow and one slope collapsed, fractured then arrested. The second slope was triggered from below and collapsed, fractured and ran a short distance. Both slopes failed on near surface facets just below a wind crust that is our new interface.

Take away points are, although snow totals weren't what we had anticipated we still received enough snow to increase avalanche danger. Slopes that have wind drifted pillows are far more touchy. Lastly, the presence of this wind crust was also important in communicating propagation. This layer can be found in nearly any wind exposed slope near treeline and most to all slopes above treeline. We didn't find the winds strong enough to build slabs below treeline.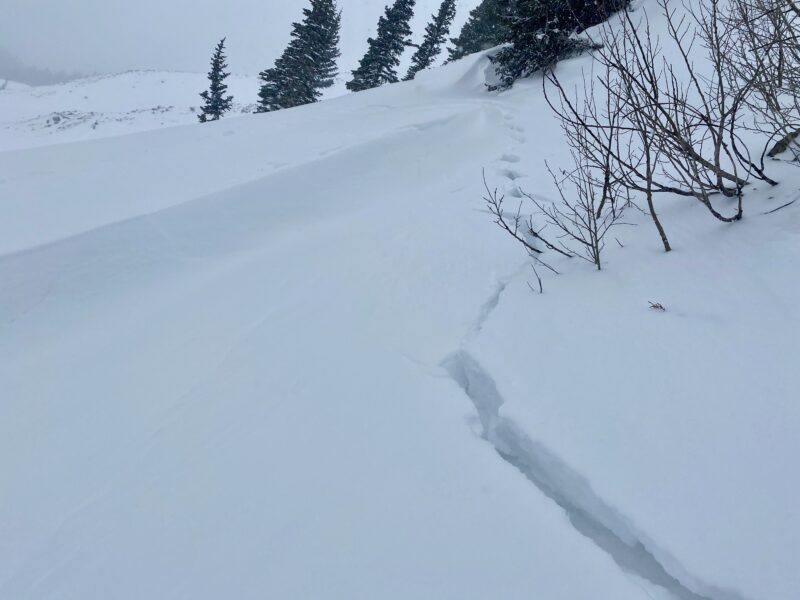 Advanced Information
Cloud Cover:
Obscured
Temperature:
14
Wind:
Light , S
By the time we had gotten out the winds had really subsided down in the valley. Evidence that it was previously stronger was easy to spot. It was lightly snowing S-1 for the majority of the day and small pockets of filtered sun were observed towards the latter half of the tour. We observed 4 to 6 inches of new snow near and above treeline and 2 to 4 inches below treeline.
#
Date
Location
Size
Type
Bed Sfc
Depth
Trigger
Photo
1
Past 24 hours
No Name
E 12,200
D1
SS
N-Natural
None
2
Today
East Facing Near Treeline
E 11,600
D1
SS
O-Old Snow
12"
AS-Skier
r-Remote
See attached photo.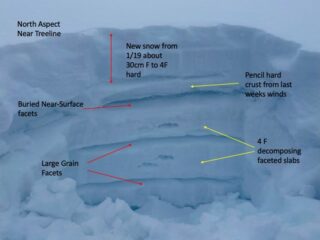 Problem
Location
Distribution
Sensitivity
Size
Persistent Slab

Isolated

Specific

Widespread

Unreactive

Stubborn

Reactive

Touchy

D1

D1.5

D2

D2.5

D3

D3.5

D4

D4.5

D5

Wind Slab

Isolated

Specific

Widespread

Unreactive

Stubborn

Reactive

Touchy

D1

D1.5

D2

D2.5

D3

D3.5

D4

D4.5

D5
Close