Close
Basic Information
Observation Date:
January 8, 2021
Submitted:
January 8, 2021
Observer:
TAC - Andy Bond
Zone or Region:
Taos Area
Location:
Yours and Mine Avalanche Paths
Recent Avalanches?
None Observed
Cracking?
None Experienced
Collapsing?
None Experienced
Stability Rating:
Very Good
Confidence in Rating:
High
Stability Trend:
Steady

Triggering an avalanche today would be difficult, but with new snow in the forecast for the weekend we have several weak layers of concern that won't easily accept any additional load. As we turn the page on high-pressure with a storm starting tomorrow. Avalanche danger will increase as we head into Sunday!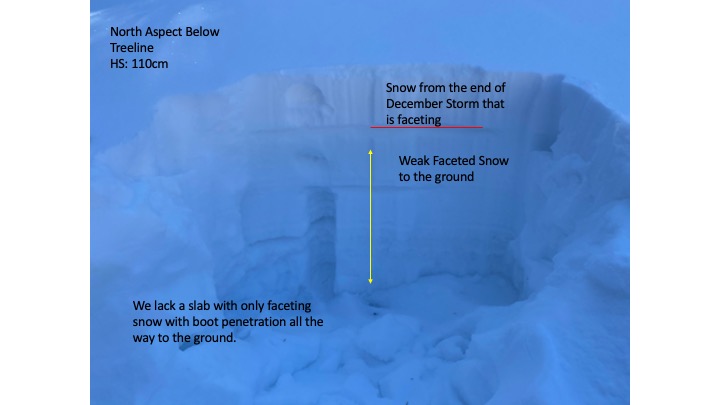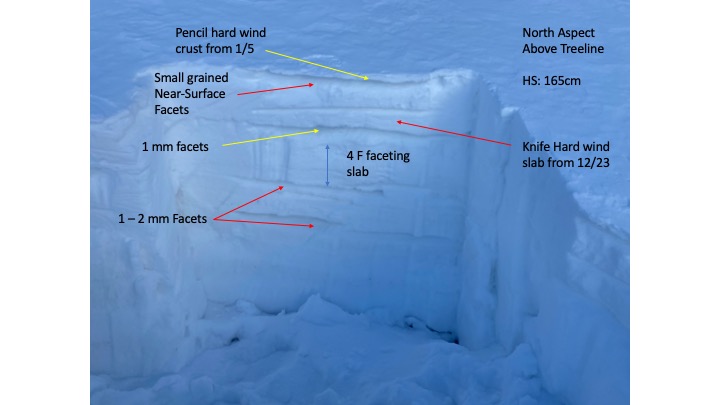 Advanced Information
Cloud Cover:
Clear
Temperature:
20 - 27
Wind:
Calm , W
Warm day in the sun but cold in the shade. No snow transporting with calm to light west winds.
Below treeline we continue to find a mostly faceted snowpack with boot and sometimes ski penetration all the way to the ground. Solar aspects have felt the impacts of our intense sun this far south and snow especially below 10,000' on these aspects.

Near and above treeline there are various forms of slabs, crusts and multiple faceted layers that have not been healing over these last two weeks of high pressure. There are two weak layers of concern with new snow in the forecast for the weekend. A small wind crust formed on Tuesday with small-grained near-surface facets just below that is incredibly weak and will not stand up to much weight or any cohesive slab on top.

Larger facets below the knife hard wind slab from 12/23 continue to show signs of not healing with the ability to propagate. These two weak layers will the be the biggest concerns to be triggered if or when we do get new snow this weekend. Below that we have weak faceted snow throughout much of the snowpack. Like we saw during the last avalanche cycle at the end of December, there is a good likelihood that an avalanche can or will step down into these deeper weak layers.
Problem
Location
Distribution
Sensitivity
Size
Persistent Slab

Isolated

Specific

Widespread

Unreactive

Stubborn

Reactive

Touchy

D1

D1.5

D2

D2.5

D3

D3.5

D4

D4.5

D5
Close