Close
Basic Information
Observation Date:
January 4, 2021
Submitted:
January 4, 2021
Observer:
TAC - Andy Bond
Zone or Region:
Taos Area
Location:
Lake Fork Peak
Recent Avalanches?
None Observed
Cracking?
None Experienced
Collapsing?
None Experienced

It seems like it's getting harder and harder to get the slope to collapse, but an overall poor snowpack structure continues to exist near and above treeline on NW through SE aspects.
Stability Rating:
Good
Confidence in Rating:
High
Stability Trend:
Steady

A poor snowpack structure continues to exist near and above treeline on NW through SE aspects. Triggering an avalanche will be stubborn and may take hitting the "sweet spot" or being the unlucky person at the right place right time. Immediate avalanche results may not be obvious but hopefully, this community somewhat understands that after the incident a couple of years ago. It might not be the first or 5th person on the slope to an avalanche. It's hard to ignore a recent avalanche cycle and continued poor snowpack structure that continues to yield easy to moderate results in long column tests. Low likelihood but consequences continue to remain high!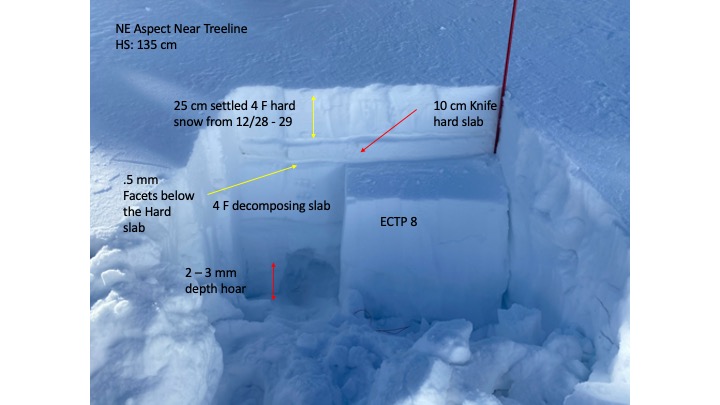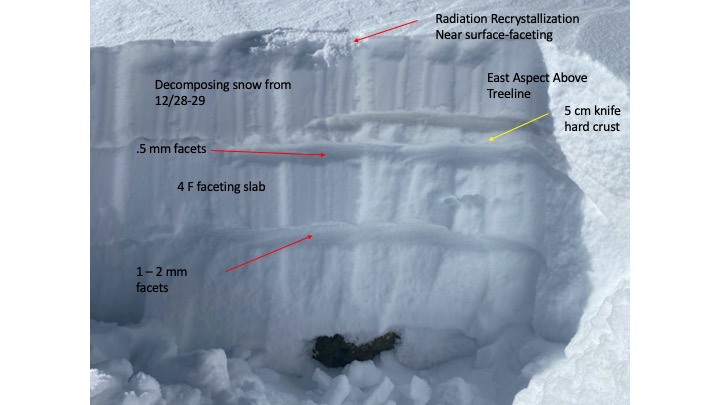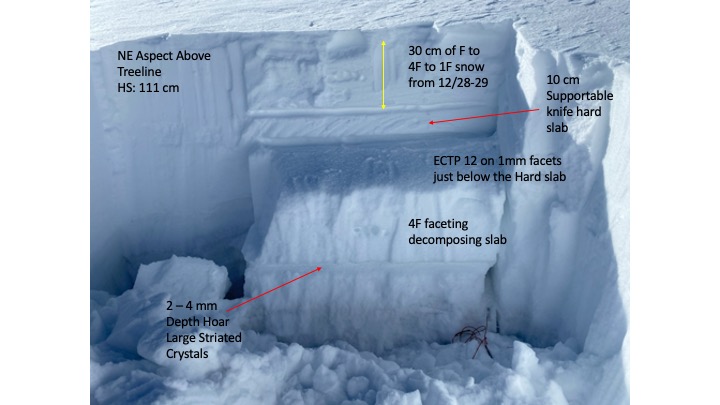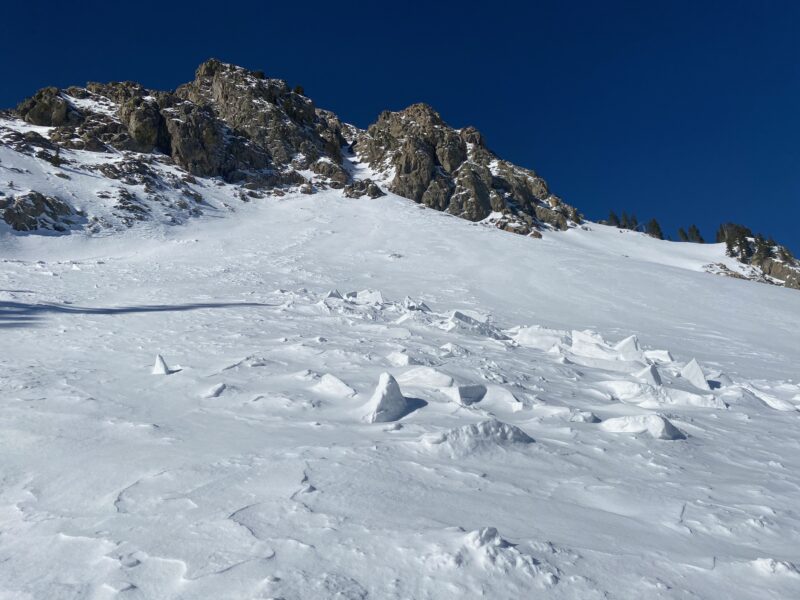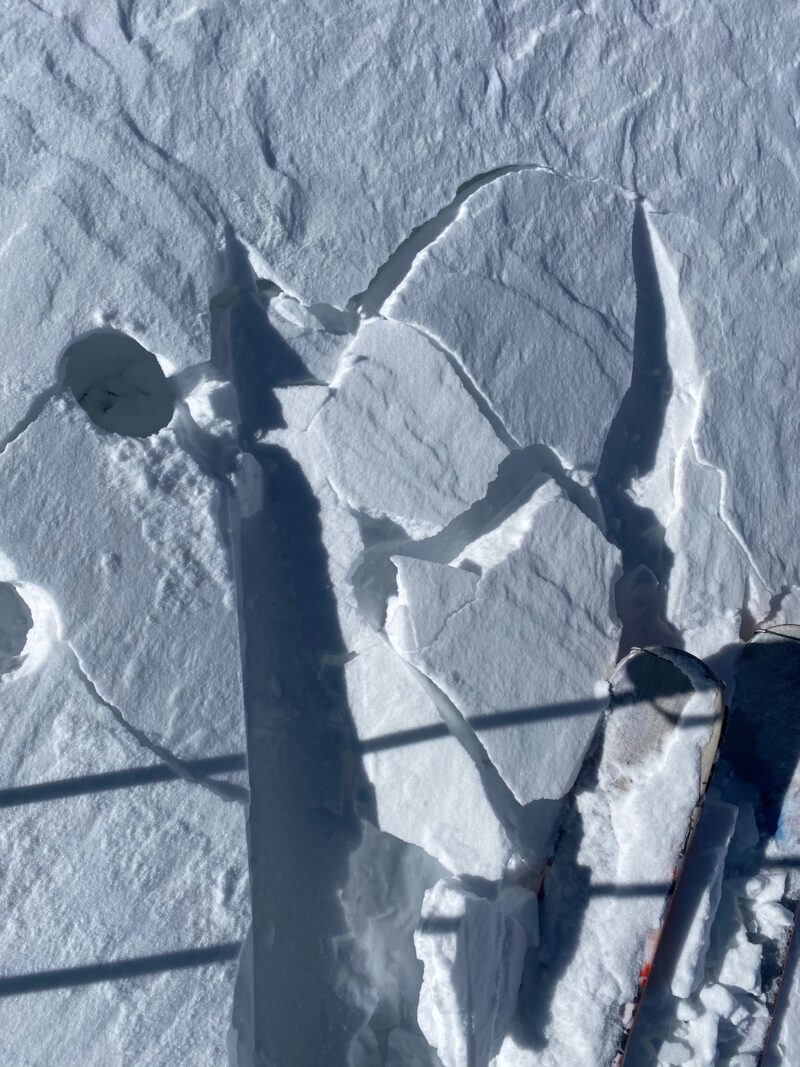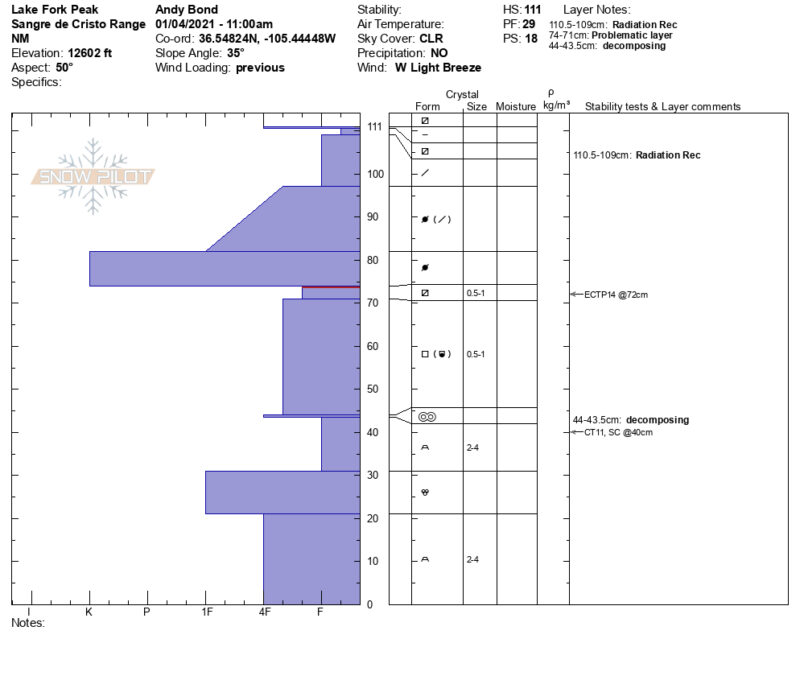 Advanced Information
Cloud Cover:
Clear
Temperature:
23 - 32
Wind:
Light , W
A spring-like day, with lots of sun and warm temperatures that made it just to 32 F at 10,000'. Winds were light and did not observe any snow transporting.
Made it up to Lake Fork Peak today. Definitely the warmest day of the last week, with solar aspects and slopes below 10,000' taking heat. Melt-freeze and sun crusts have formed at lower elevations and especially south aspects. Did notice some good Radiation Recrystallization on easterly aspects above treeline.

Below treeline I struggle to find any slabs able to propagate. South aspects are melting back to bare ground and north and shady aspects are mostly faceted cohesionless snow.

Near and above treeline is where I'm finding stiff slabs that formed just prior to Christmas with the latest round of storm snow above. Recent winds have changed the snow surface to breakable and supportable crusts as well as soft windblown snow. It's highly variable skiing to say the least but you can still piece together soft turns if you know what to look for.

The snowpack structure continues to yield easy to moderate results in long column test although I did not experience any collapsing and cracking today. The key slab communicator seems to be a supportable knife hard slab that formed prior to Christmas and before this last storm at the end of December. There are also 2 faceted weak layers of concern that continue to pop up in snowpits. One facet layer is just below the hard slab. This seems to be the easiest to get to propagate in extended column tests, but may also just be the easiest to trigger while tapping. On some slopes, depth is on the ground but in pits today large striated depth was roughly 30 cm off the ground that is also a concern in our shallow less than 1.5m snowpack.

In looking at naturals that ran on 12/29 it's obvious that avalanches quickly stepped down into deeper weak layers as we have a very weak snowpack beneath the hard slabs that can't support the rapid load.
Problem
Location
Distribution
Sensitivity
Size
Persistent Slab

Isolated

Specific

Widespread

Unreactive

Stubborn

Reactive

Touchy

D1

D1.5

D2

D2.5

D3

D3.5

D4

D4.5

D5
Stepped out into avalanche terrain above treeline to see what was going on slopes that did not natural avalanche during last week's cycle.
Close