Close
Basic Information
Observation Date:
December 30, 2020
Submitted:
December 30, 2020
Observer:
TAC - Steve Gately
Zone or Region:
Taos Area
Location:
Long Canyon - Natural Avalanches
Recent Avalanches?
Yes
Cracking?
None Experienced
Collapsing?
Isolated
Stability Rating:
Poor
Confidence in Rating:
High
Stability Trend:
Improving

There was evidence of natural avalanche activity from the previous 48hrs on North, East, and Southeast aspects. It's obvious that we are dealing with a sensitive snowpack and it will take some time for this instability to adjust. Human-triggered avalanches are still likely on these aspects near and above tree line.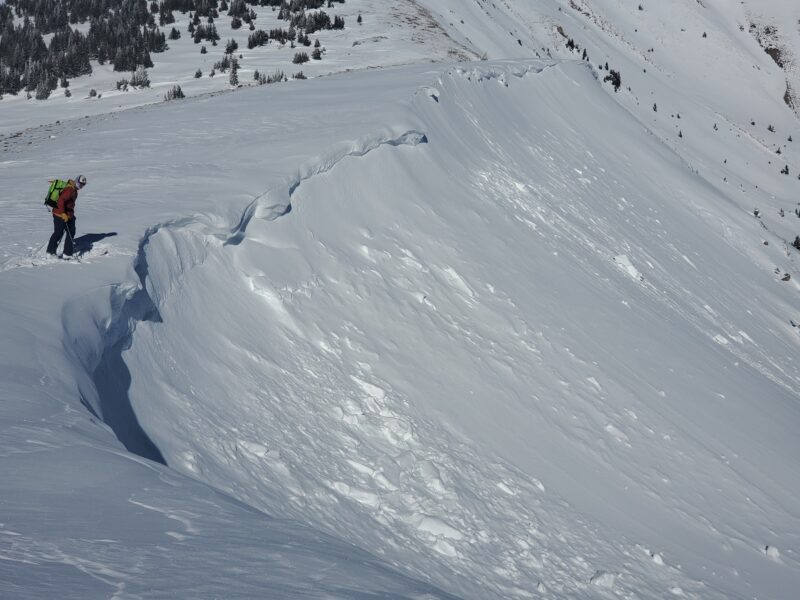 Advanced Information
Cloud Cover:
Clear
Temperature:
14
Wind:
Calm , N
Clear and sunny skies with calm winds. By early afternoon the solar aspects were taking heat.
#
Date
Location
Size
Type
Bed Sfc
Depth
Trigger
Photo
1
Past 48 hours
Long Canyon
E 11,800'
D1.5
SS
O-Old Snow
2'
N-Natural

2
Past 48 hours
Long Canyon
E 11,800'
D2
SS
O-Old Snow
2'
N-Natural
There were at least three other natural avalanches observed including one on a Southeast Aspect. This is the second natural avalanche observed on that aspect. We continue to predominately observe recent natural activity on North and East aspects. This was likely to do wind loading from strong winds from Dec 27-28
All of these natural avalanches appeared to fail into a layer of facets just beneath a decomposing wind slab buried about 2' down.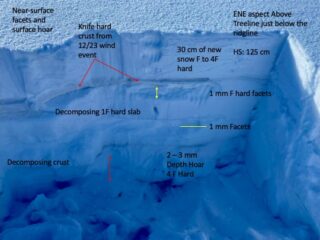 Problem
Location
Distribution
Sensitivity
Size
Persistent Slab

Isolated

Specific

Widespread

Unreactive

Stubborn

Reactive

Touchy

D1

D1.5

D2

D2.5

D3

D3.5

D4

D4.5

D5
Long Canyon is almost entirely avalanche terrain and it can be a difficult place to access the ridgeline. We traveled up a heavily wooded Southerly aspect that held very little old snow. We opted to descend the same route.
Close