Close
Basic Information
Observation Date:
December 29, 2020
Submitted:
December 29, 2020
Observer:
TAC - Andy Bond
Zone or Region:
Taos Area
Location:
Natural and Skier Triggered Avalanches on North through East Aspects near and above treeline
Recent Avalanches?
Yes
Cracking?
Widespread
Collapsing?
Isolated

Lots of cracking and isolated collapsing that was not as obvious. Most slopes we got on near and above treeline either cracked with wide shooting cracks or avalanched.
Stability Rating:
Very Poor
Confidence in Rating:
High
Stability Trend:
Improving

Several natural avalanches were observed today as well as intentional skier-triggered avalanches on smaller test slopes near and above treeline. Slopes less than 35 degrees that we stepped on we would get shooting cracks and collapsing. On steeper terrain, we would these slopes to avalanche. Avalanche activity today was confined to NW to SE aspects.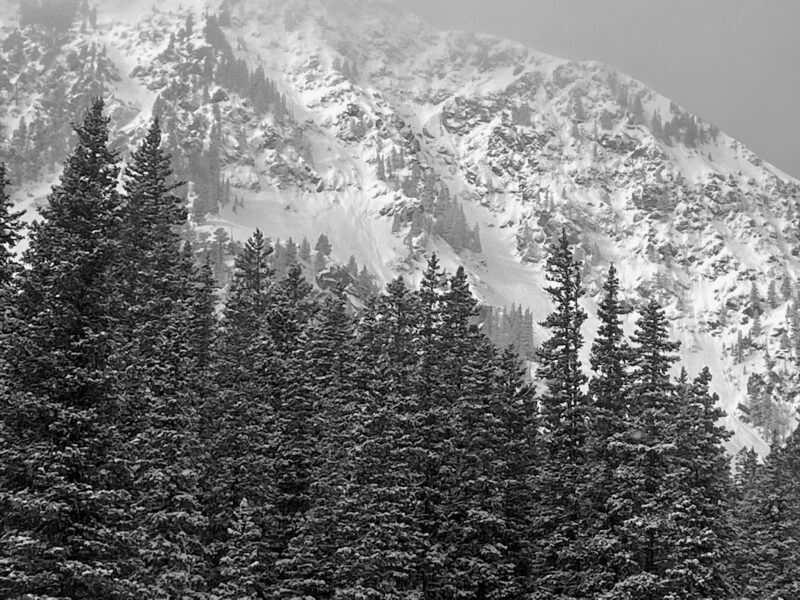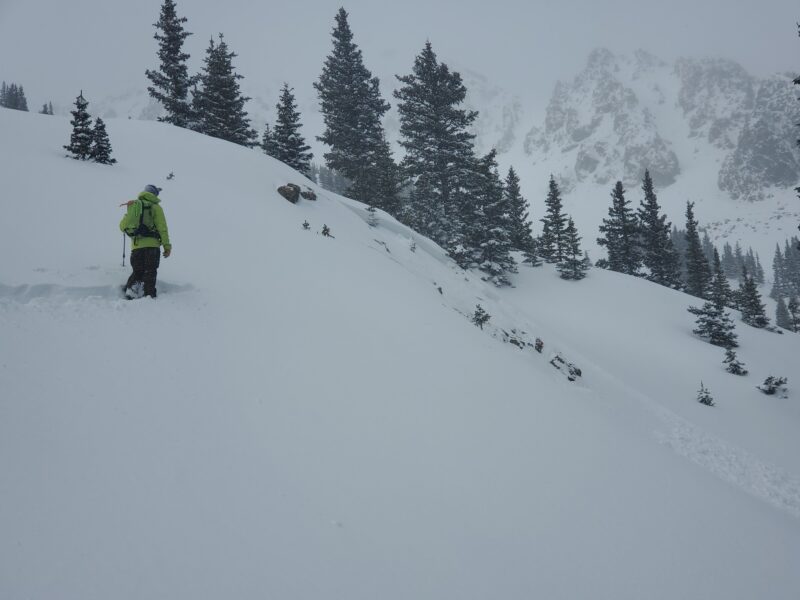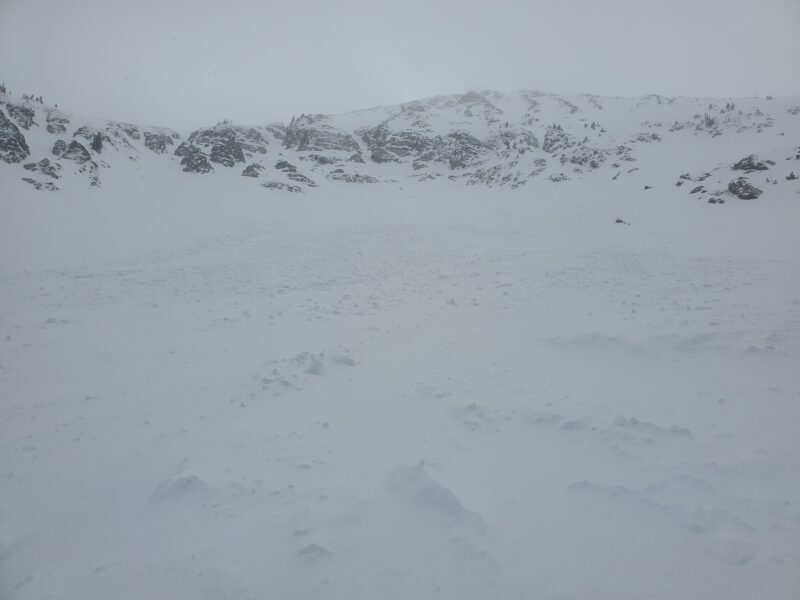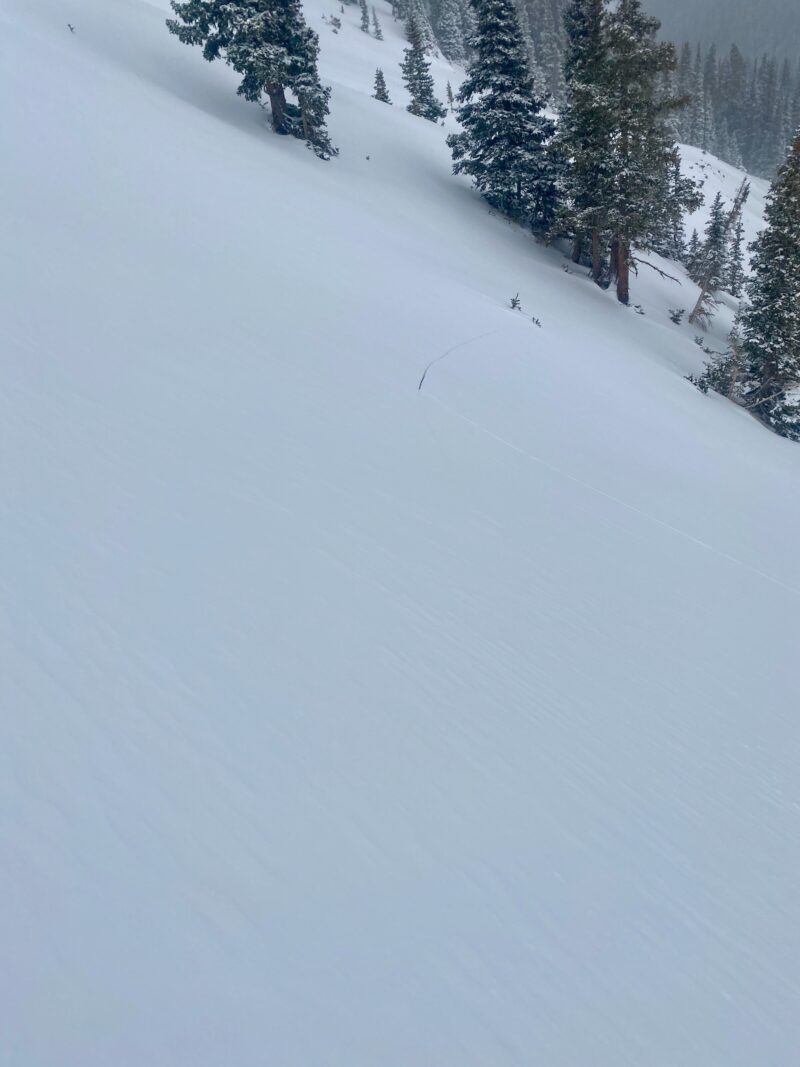 Advanced Information
Cloud Cover:
Overcast
Temperature:
10 - 20
Wind:
Light , W
Overcast day, with orographic snow showers, not accumulating to much new snow during the day. Light west winds with not a lot of snow transporting. There is a lot of snow available for transport.
#
Date
Location
Size
Type
Bed Sfc
Depth
Trigger
Photo
1
Today
No Name Peak
N 12,400'
D2
SS
O-Old Snow
Unknown
N-Natural

1
Near Treeline North Aspect
N 11,700'
D1
SS
G-Ground
1 - 2'
AS-Skier
c-Intentional

1
Today
Steep trees above Williams Lake
NE 11,500
D1
SS
O-Old Snow
6 - 12"
N-Natural
We observed many natural avalanches mainly above treeline on North and East aspects. These avalanches appeared to have run sometime early this morning possibly when we had 2" an hour precipitation rates between 7 - 8 AM. Things were touchy out there today and we triggered several avalanches on small test slopes. Slopes needed to be above 35 degrees.
Didn't conduct any stability tests today as natural and skier-triggered avalanches were all we needed to know stability was not great today. Even taking a ski pole, it's easy to feel the fragile weak layers and overall poor snowpack structure. We were surprised at how soft the slabs were considering we had 90 mph winds overnight. Didn't make it to ridgelines proper but would expect to find more of a wind slab on the leeward side of ridgelines.
Problem
Location
Distribution
Sensitivity
Size
Persistent Slab

Isolated

Specific

Widespread

Unreactive

Stubborn

Reactive

Touchy

D1

D1.5

D2

D2.5

D3

D3.5

D4

D4.5

D5

Storm Slab

Isolated

Specific

Widespread

Unreactive

Stubborn

Reactive

Touchy

D1

D1.5

D2

D2.5

D3

D3.5

D4

D4.5

D5
Below treeline the biggest hazard is loose snow avalanches that are able to entrain and gouge the weak faceted snow especially in steep terrain.
Kept it mellow just getting on small test slopes, a pretty good likelihood that you'd trigger an avalanche on a slope steeper than 35 degrees today. Good skiing on wind-sheltered lower angle terrain!
Close