Close
Basic Information
Observation Date:
December 27, 2020
Submitted:
December 27, 2020
Observer:
TAC - Steve Gately
Zone or Region:
Taos Area
Location:
Columbine - North and East Aspects
Recent Avalanches?
None Observed
Cracking?
None Experienced
Collapsing?
None Experienced
Stability Rating:
Good
Confidence in Rating:
High
Stability Trend:
Steady

South and West aspects on this tour held little to no snow nearly all the way to the ridgeline around 11,000ft. North and East aspects had an average 2 foot snowpack. Aside from a shallow wind slab on the surface this snowpack was fully faceted to the ground. Only minor differences in density could be found from decomposing slabs. We feel this is pretty representative of what is happening underneath the wind swept moonscape that makes up the bulk of what everyone is probably plenty familiar with right now. Despite the inconsistency that exists on the surface we have a very consistent and uniform layer of facets that have been developing through this extended period of high pressure. The sensitivity of this weakness will undoubtedly increase our avalanche danger when we add new snow and a more consistent cohesive slab - the missing ingredient in our avalanche recipe right now.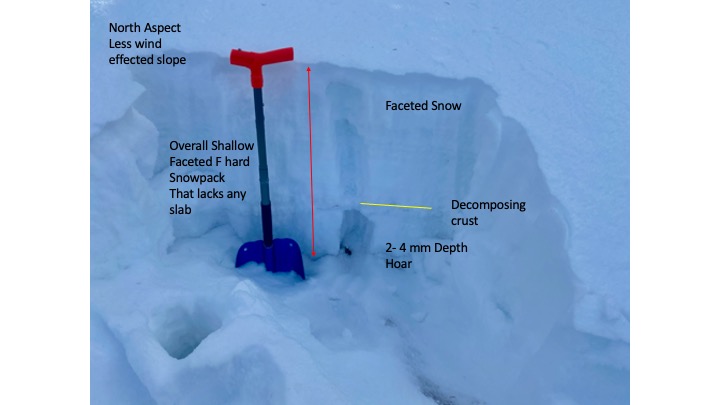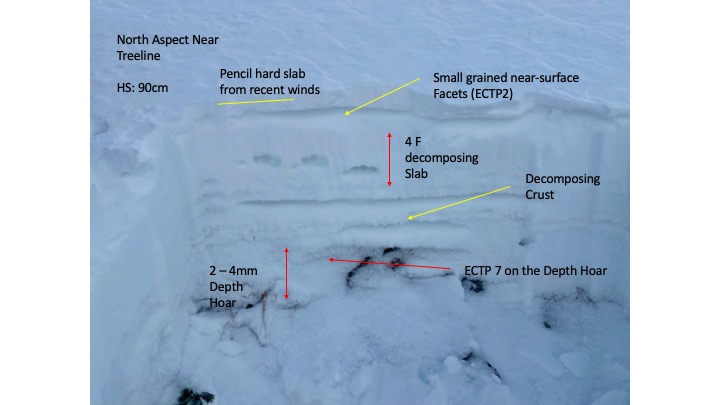 Advanced Information
Cloud Cover:
Overcast
Temperature:
20
Wind:
Light , SW
Warm and sunny conditions at the start of the tour gave way to increasing overcast skies and colder temperatures with light wind by the time we gained the ridge. It appeared that light snow may have begun falling over the Northern part of our forecast zone as we drove away.
We did not encounter an avalanche problem on our tour today. The snowpack was fully faceted from top to bottom and lacked a cohesive slab needed for producing an avalanche.
Close