Close
Basic Information
Observation Date:
December 23, 2020
Submitted:
December 23, 2020
Observer:
TAC - Andy Bond
Zone or Region:
Taos Area
Location:
Hard Wind Slabs and Facets
Recent Avalanches?
None Observed
Cracking?
Isolated
Collapsing?
Isolated

We've introduced hard slab on the surface that now sit on top of weak shallow faceted snowpack.
Stability Rating:
Fair
Confidence in Rating:
Moderate
Stability Trend:
Steady

Strong winds over the last 24 hours have created knife hard slabs on the surface that now cap an overall weak faceted snowpack. With snow potentially in the forecast at the beginning of next week, we have a pretty good set-up for a troubling snowpack structure moving forward. These strong winds have made the skiing and riding very challenging with variable conditions. The biggest hazard out there today for us was not blowing a knee!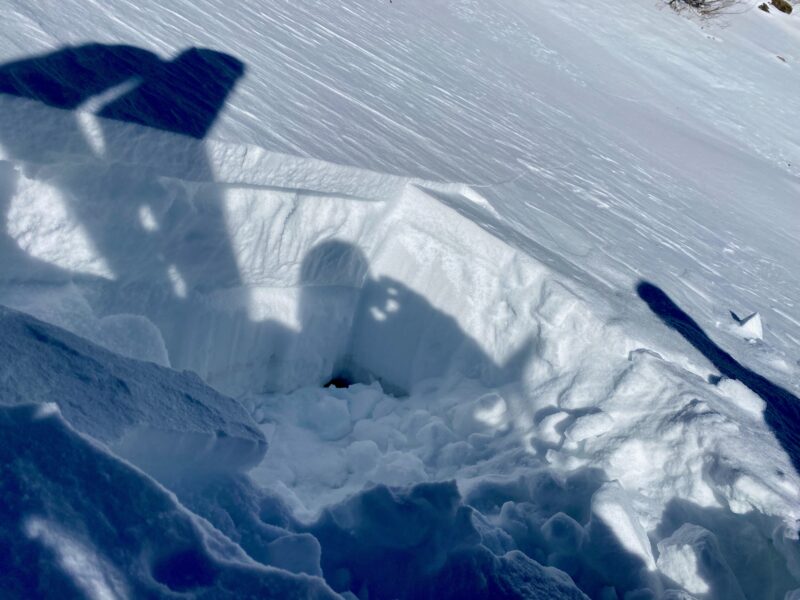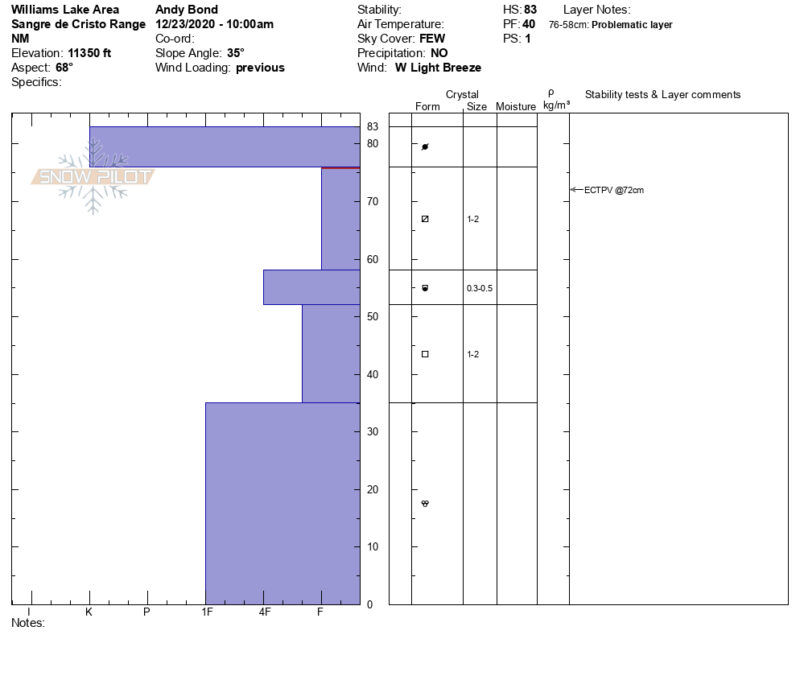 Advanced Information
Cloud Cover:
Mostly Sunny
Temperature:
0 - 5
Wind:
Light , W
Cold day, with temperatures below freezing at higher elevations. Clouds started to roll in early this afternoon. Winds were 5 - 10 mph out of the west.
The winds last night 12/22-23 have hammered our mountains. The impacts of the wind could be felt at all elevations and ultimately has made the skiing horrendous with variable conditions from breakable wind crusts to hard supportable slabs near and above treeline. Finding a soft turn right now is difficult.

The impacts on the snowpack have left us with stiff knife hard supportable slabs near and above treeline that are sitting on top of weak faceted snow. These hard slabs were 10 - 20 cm thick in the spots we were, but I would suspect them to be slightly thicker on East aspects on the leeward side of ridgelines. We did get isolated collapsing and cracking on the margins of the slabs where the slab was less thick.

These slabs formed on top of near surface facets from the last week of high pressure and are now capping an overall weak faceted snowpack. As we start looking towards the next storm, Monday we have a pretty scary set-up. These slabs will more than likely be able to handle the next storms weight and load but likely won't be able to handle the weight of a person and the snow.
Problem
Location
Distribution
Sensitivity
Size
Persistent Slab

Isolated

Specific

Widespread

Unreactive

Stubborn

Reactive

Touchy

D1

D1.5

D2

D2.5

D3

D3.5

D4

D4.5

D5
Close