Close
Basic Information
Observation Date:
December 14, 2020
Submitted:
December 14, 2020
Observer:
TAC - Andy Bond
Zone or Region:
Taos Area
Location:
Long Canyon
Recent Avalanches?
Yes
Cracking?
Widespread
Collapsing?
Widespread

Widespread unstable snow that is able to propagate far distances right now
Stability Rating:
Poor
Confidence in Rating:
High
Stability Trend:
Steady

Conditions are still quite touchy out there, with slopes steeper than 35 degrees able to release an avalanche. Terrain selection is crucial out there right now as we are still seeing the ability to remote trigger avalanches. The main concern is persistent slab avalanches failing on weak faceted snow deeper down in the snowpack or on the ground.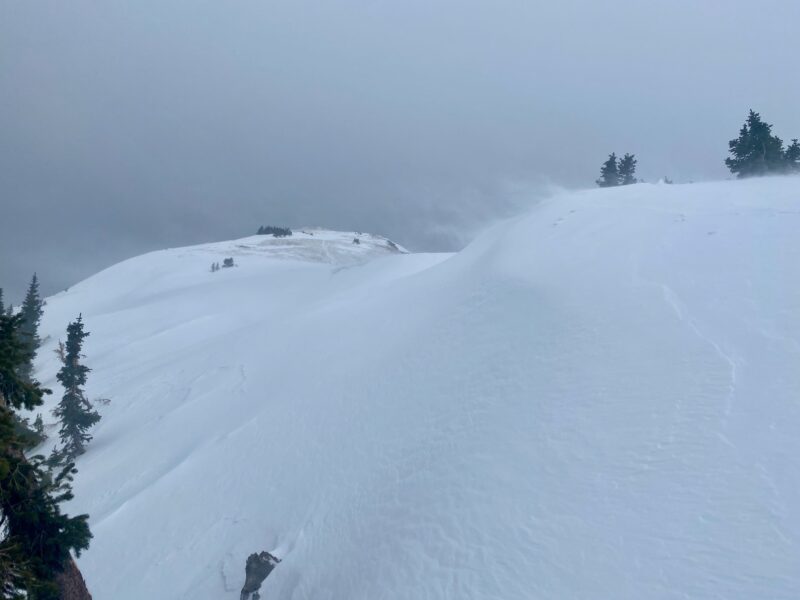 Advanced Information
Cloud Cover:
Overcast
Temperature:
15 - 20
Wind:
Moderate , W
Clouds rolled in pretty quickly this morning, with snow flurries mid-morning. No snow accumulation with these flurries. Winds were calm to light below ridgelines and moderate to strong at ridgetops out of the Southwest. Snow was transporting at ridgetops.
#
Date
Location
Size
Type
Bed Sfc
Depth
Trigger
Photo
1
Today
Long Canyon
NE 11,600'
D1.5
SS
G-Ground
2 - 3 feet
AS-Skier
r-Remote
Went up Long Canyon today to see what happened back there with the widespread natural avalanche cycle from early Saturday morning. There was evidence of lots of debris on the North and East aspects near and above treeline. We continue to get widespread collapsing and shooting cracks. Long Canyon has an overall shallower snowpack than the Williams Lake side of life. We were finding well-developed depth hoar on the ground on most slopes.

Winds were moderate out of the SW on the ridgelines and was easily transporting snow into stiffening slabs on the leeward side.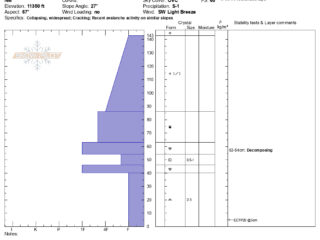 Problem
Location
Distribution
Sensitivity
Size
Persistent Slab

Isolated

Specific

Widespread

Unreactive

Stubborn

Reactive

Touchy

D1

D1.5

D2

D2.5

D3

D3.5

D4

D4.5

D5
Kept to slopes less than 35 degrees
Close