Close
Basic Information
Observation Date:
November 25, 2020
Submitted:
November 25, 2020
Observer:
TAC - Steve Gately
Zone or Region:
Taos Area
Location:
No Name Cirque to Lake Fork
Recent Avalanches?
Yes
Cracking?
Isolated
Collapsing?
Isolated

We continue to observe whumpfing and cracking on North and shady aspects at and above tree line.
Stability Rating:
Poor
Confidence in Rating:
High
Stability Trend:
Steady

WIND SLAB:
We encountered small pockets of wind slabs just on the leeward sides of ridges at upper elevations. These wind slabs were stubborn to trigger and ran very sluggishly.

PERSISTENT SLAB:
The bottom line here is that finding the appropriate structure to trigger one of these avalanches takes some digging. We've found it on generally all polar aspects but we were surprised to be traveling on upper elevation East facing terrain and finding storm snow from the previous 48hrs with little to no old snow to speak of underneath it. Then one drainage over finding the structure to produce a persistent slab avalanche on the same aspect and elevation. The areas where we are finding a cohesive slab are areas with signs of wind transport. Due to the massive amount of spatial variability the only way to identify this structure is to look for it.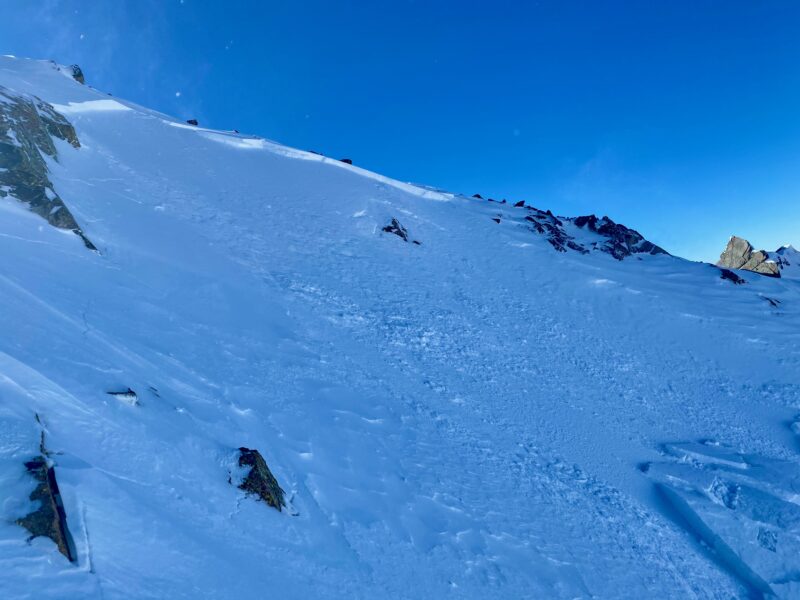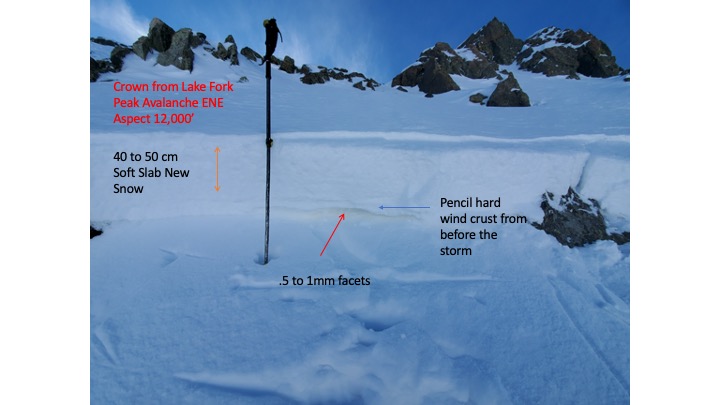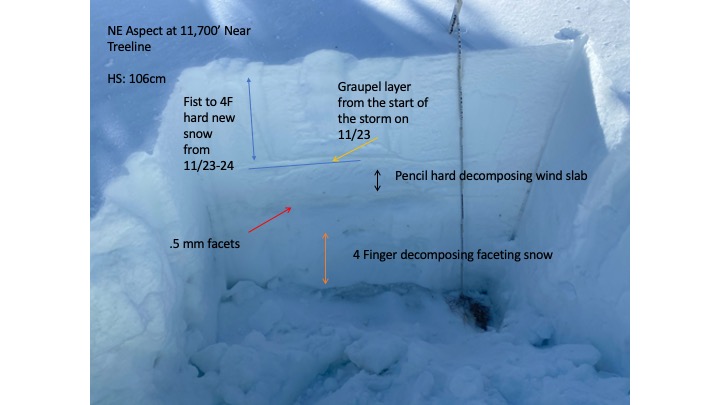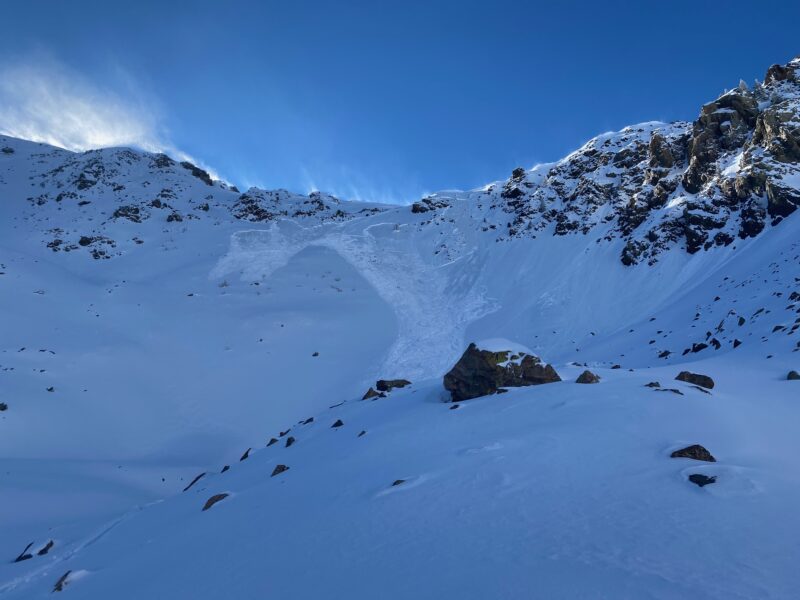 Advanced Information
Cloud Cover:
Clear
Temperature:
25-28
Wind:
Moderate , W
Skies were clear and we experienced light up valley winds at and below tree line starting at about Williams Lake. Ridgetops saw West winds averaging 15mph with gusts around 25. Wind transported snow could easily be spotted from down in the valley. Solar aspects at and below tree line were taking heat by around midday and we saw fairly significant sun effect by late afternoon.
#
Date
Location
Size
Type
Bed Sfc
Depth
Trigger
Photo
1
Today
Lake Fork
E 12,000
D1.5
SS
O-Old Snow
14-16"
AS-Skier
c-Intentional

2
Past 24 hours
Vallecito
N 11,400-11,700ft
D1
SS
O-Old Snow
N-Natural
None
3
Past 24 hours
Backside Kachina Peak
E 11,200ft
D1
SS
N-Natural
The three key ingredients we need for producing an avalanche right now is...

-Added Weight from wind transported snow
-A Cohesive Slab (created from wind transport)
-An existing snowpack prior to 11/23-24 storm

We are predominately finding this structure on Northwest through East facing terrain at and above tree line.
Problem
Location
Distribution
Sensitivity
Size
Persistent Slab

Isolated

Specific

Widespread

Unreactive

Stubborn

Reactive

Touchy

D1

D1.5

D2

D2.5

D3

D3.5

D4

D4.5

D5

Wind Slab

Isolated

Specific

Widespread

Unreactive

Stubborn

Reactive

Touchy

D1

D1.5

D2

D2.5

D3

D3.5

D4

D4.5

D5
Close