Close
Basic Information
Observation Date:
November 24, 2020
Submitted:
November 24, 2020
Observer:
TAC - Andy Bond
Zone or Region:
Taos Area
Location:
Simpson Peak
Recent Avalanches?
None Observed
Cracking?
Isolated
Collapsing?
Isolated

Cracking and collapsing was limited to Northerly facing terrain above 11,000' where there was faceted snow beneath hard stiff wind slab from an earlier November storm
Stability Rating:
Fair
Confidence in Rating:
Moderate
Stability Trend:
Worsening

We have just enough snow to hide what's underneath the snowpack. You need to take the time to dig down into the snow to assess the underlying stratigraphy to assess whether weak layers are present.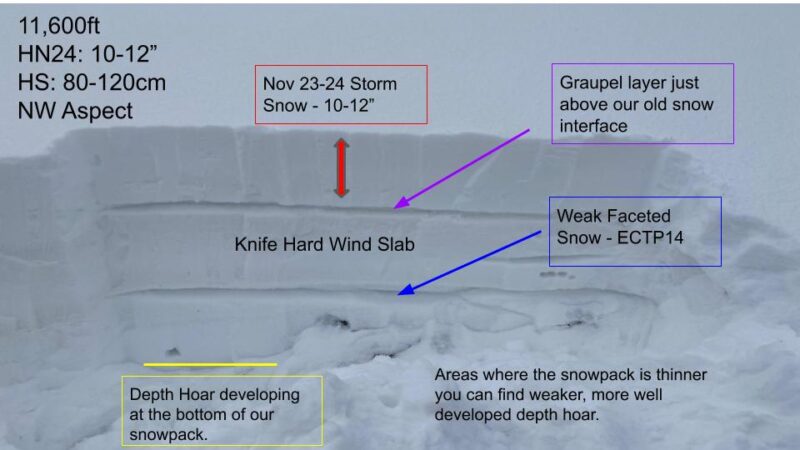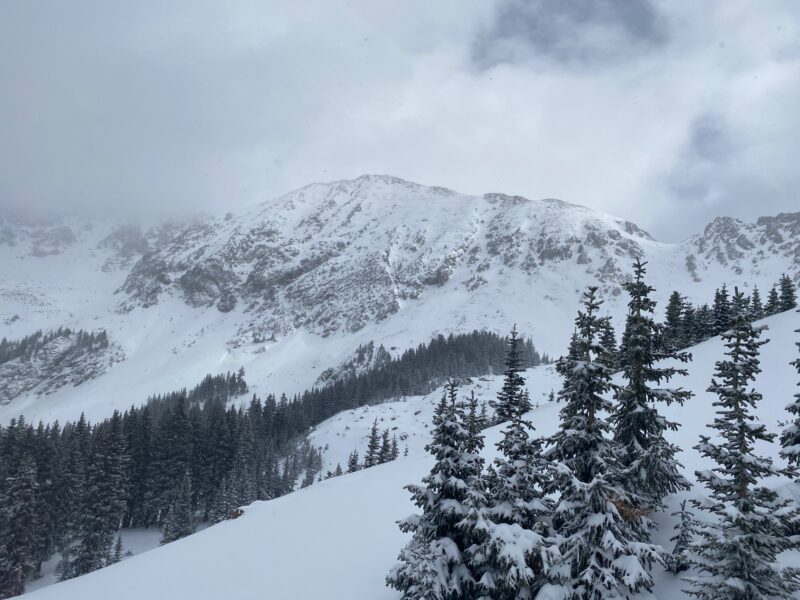 Advanced Information
Cloud Cover:
Obscured
Temperature:
15 - 20
Wind:
Light , W
Snow throughout the day with an additional 5" of snow by mid-afternoon. Winds were light and we did not observe snow being transported during the tour. Precip rate picked up around noon to about S2.
Only about 4 to 7" of snow around 9000' with roughly a foot of snow at 10,000'. Travel has really improved with this latest round of snow but lots of natural obstacles still exist. As of 3PM Snow Water Equivalent (SWE) totals are about 1.5" of water and snow totals are 12 to 16" above 10,000'.

We went out to look at how the new snow was bonding to the existing snow from earlier storms that can be found on Northerly aspects. We did not observe a cohesive slab within the new snow but did get reports of avalanches from avalanche mitigation teams within the new snow on the leeward side of ridgelines.

We found a pronounced graupel layer that started the storm on 11/23 during the initial frontal passage. The new snow seemed to be bonding well to the existing surfaces from bare ground on West and South aspects to firm crusts on North facing slopes above treeline. We were getting loud audible collapsing and shooting cracks on north-facing terrain near and above treeline where the stratigraphy of the snow before this most recent storm comprised of stiff hard slabs (from previous wind events) and weaker faceted snow. We did not observe any natural avalanches and the 1.5" of water was not enough to tip the scales.

We did not observe a cohesive slab within in the new snow but did not make it to ridgetops.
Problem
Location
Distribution
Sensitivity
Size
Persistent Slab

Isolated

Specific

Widespread

Unreactive

Stubborn

Reactive

Touchy

D1

D1.5

D2

D2.5

D3

D3.5

D4

D4.5

D5
Close